Skip to main content
Skip to navigation
Multi-Parameter Input Transmitter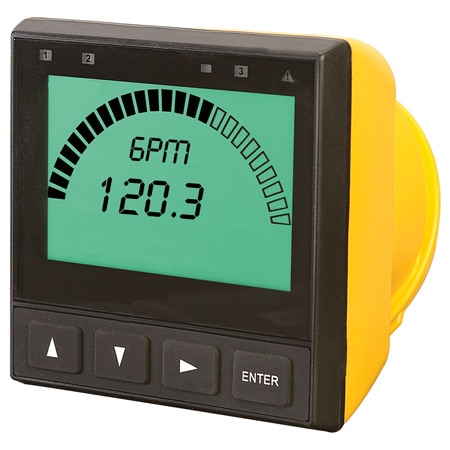 Large Auto-Sensing Backlit Display
"Dial-Style" Digital Bar Graph
Intuitive and "User-Friendly" Interface
Optional Field Upgradable Relays
DPU91-Flow Model Options
View all models
Edit these specs to order a different model. Not all combinations are valid. Options compatible with previous selections will be in bold.
*Highlighted options are not compatible. Please select a different combination.
The DPU91 transmitter provides a single channel interface for many different parameters including flow, pH/ORP, conductivity/resistivity, salinity and temperature. The DPU91-BC transmitter has the added capability of supporting the batch module for batching control. The extra-large (3.90 x 3.90') autosensing backlit display can be viewed at 4 to 5 times the distance over traditional transmitters. The highly illuminated display and large characters reduce the risk of misreading or misinterpreting the displayed values. The display shows separate lines for units, main and secondary measurements as well as a "dial-style" digital bar graph. The DPU91 is offered in both panel or field-mount versions. Both configurations can run on 12 to 32 Vdc power (24 Vdc nominal)and have 4 to 20 mA outputs. Designed for complete flexibility, plug-in modules allow the unit to easily adapt to meet changing customer needs. Optional modules include relay, direct conductivity/ resistivity, batch and a PC communications configuration tool. The unit can be used with default values for quick and easy programming or can be customized with labeling, adjustable minimum and maximum dial settings, and unit and decimal measurement choices.
DPU91 Series with Mating Flow Sensors

DPU91 or DPU91-BC
DPU91P or DPU91P-BC
FP-5100, FP-5200, FP-5300, FPB100, FMG3000
FD90UM and *sensor installation fitting, DPU90-AK(optional)
*Sensor Installation fitting
Integral Mount
FP-5600, FP-8500, FP-8500A
FD90lUM and *sensor installation fitting, DPU90-AK(optional)
Panel mount displays cannot be mounted integrally to the sensor
FP-5061, FP-5070, FP-2540, FMG-550
FP90UM, DPU90-AK(optional)
DPU91 Series with Mating pH/ORP Sensors Sensors

DPU91
DPU91P
Submersible Mounted
PHE-2724, ORE-2725, PHE-2726
FD90UM, PHEH-275G DPU90-AK (optional)
PHEH-275G
In-Line Mounted
PHE-2724, ORE-2725, PHE-2726
PHEH-275Y, *Sensor Installation fitting, DPU90-AK(optional)
Panel Mount Displays cannot be mounted integrally to the sensor
DPU91 Series with Mating Conductivity/Resistivity/Sallnity Sensors

DPU91
DPU91P
CDCE-90
Series Sensor*
FD90UM, DPU90-AK and DPU90-C
DPU90-C

Specifications
General
Input Channels: 1
Input Types: Digital serial ASCII, TTL level, 9600 bps
Frequency Range: 0.5 to 1500 Hz
Accuracy: 0.5% of reading (display)
Measurement Types: Flow, pH/ORP, conductivity/resistivity, salinity, pressure, temperature or batch
Enclosure and Display
Case Material: PBT
Window: Shatter-resistant glass
Keypad: 4 buttons, injection-molded silicone rubber seal
Display: Backlit, 7 and 14-segment
Update Rate: 1 second
LCD Contrast: 5 settings
Indicators: "Dial-style" digital bar graph, LEDs for open collector, relays and warning indicator
Enclosure: ¼ DIN, NEMA 4X/IP65
Mounting Panel: ¼ DIN, ribbed on four sides for panel mounting clip inside panel, silicon gasket (included)
Field Mounts: Specified to OMEGA™ field mount junction boxes
Weight: 0.63 kg (1.63 lb)
Flow Rate: -9999 to 99999 units per second, minute, hour or day
Totalizer: 0.00 to 99999999 units (program lockout or resettable)
Temperature: -99 to 350°C (-146 to 662°F)
Volume: 0 to 99999 cm³, m³, in³, ft³, gal, L, lb, kg, %
Environmental
Ambient Operating Temperature:
Backlit LCD: -10 to 70°C (14 to 158°F)
Storage Temperature: -15 to 70°C (5 to 158°F)
Relative Humidity: 0 to 100% condensing for field mount; 0 to 95% non-condensing for panel mount
Maximum Altitude: 4000 m (13,123')
Electrical Requirements
Power to Sensors:
Voltage: 4.9 to 5.5 Vdc @ 25°C, regulated short circuit protected
Terminal Blocks: Pluggable screw type 14 AWG maximum wire gauge
Input Power
DC: 10.8 to 35.2 Vdc, regulated
Current Output:
4 to 20 mA (10.8 to 35.2 VDC, 30 mA max)
DPU91 without Relay Module: 200 mA @ 10.8 to 35.2 Vdc
DPU91 with Relay Module: 300 mA @ 10.8 to 35.2 Vdc
Open Collector: 1
Overvoltage Protection: 48 V transient protection device current limiting for circuit protection and reverse-voltage protection
Relay Specifications (DPU90-R optional)
Type: SPDT, Form C
Maximum Current Rating: 5 A resistive 50 mA DC
Maximum Voltage Rating: 30 Vdc or 250 Vac
Hysteresis Adjustable: Absolute in engineering units (EUs)
Latch Reset: In test screen only
Delay: 9999.9 seconds (maximum)
Test Mode: Set on/off
Cycle Time: 99999 seconds (maximum)
Maximum Pulse Rate: 400 pulses/minute
Proportional Pulse: 400 pulses/minute
Volumetric Pulse Width: 0.1 to 3200 s
Pulse Width Modulation: 0.1 to 320 s
Input Types
Digital or AC Frequency: pH/ORP input via the digital output pH/ORP sensor electronics
Conductivity/Resistivity: Input directly from OMEGA conductivity/ resistivity electrodes via direct conductivity/resistivity module or via CDTX-2850
Input Specifications
Digital Serial: ACSII, TTL level, 9600 bps
Frequency Input:
Sensitivity: 80 mV @ 5 Hz, gradually increasing with frequency
Span: 0.5 Hz to 1500 Hz @ TTL level input
Accuracy: ± 0.5% or reading maximum error @ 25°C (77°F)
Repeatability: ±0.2% of reading
CE Approved