Skip to main content
Skip to navigation
1/16, 1/8, and 1/4 DIN Temperature and Process PID Controllers
CND3 Temperature and Process PID Controller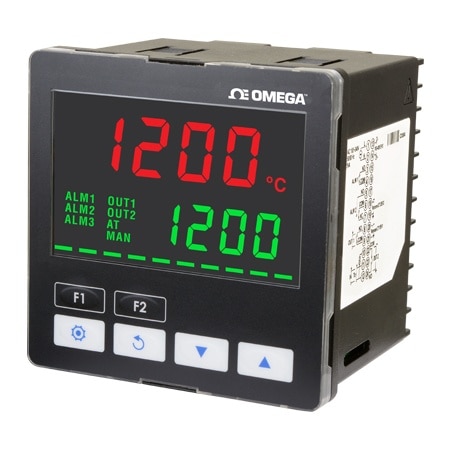 Item# CN16D3-R-AC
Volume discounts available
| Quantity | Price each |
| --- | --- |
| 1-9 | C$281.05 |
| 10-24 | C$267.00 |
| 25-49 | C$252.95 |
| 50-99 | C$238.89 |
| 100-499 | C$224.84 |
| 500+ | C$210.79 |
Added to Your Shopping Cart
Configuration complete.
Please add to cart to keep it or exit the configuration
Failed to Save Configurations, Click on Configure Button Start Again
Lead Time (If not in stock):
20 weeks
Base Model Starting from $80
Fast Sampling Time 0.1 sec
Heater Disconnection Detection
All 1/4, 1/8, 1/16 DIN Models UL/cUL Certified
CN16D3-R-AC Model Options
View all models
Edit these specs to order a different model. Not all combinations are valid. Options compatible with previous selections will be in bold.
*Highlighted options are not compatible. Please select a different combination.
The New Omega temperature & process controller CND3 Series is designed with upgraded hardware and higher specifications to offer smart operation, fast response, and easy to use, plus user-friendly and user-defined function keys. With Self-Tuning PID and FUZZY temperature control functions, controllers can be installed in both open space or confined space applications and are capable of presenting a smooth temperature control curve.

Applications Include: Machinery for the printing, food packaging, solar panel manufacturing, and high-tech electronics industries.

SPECIFICATION
GENERAL SPECIFICATIONS
Power:
AC Power: 100 to 240 VAC, 50/60Hz, 5VA max
DC Power: 24 VDC ±10%, 5W max
Display: 2 line by 4-digital, FSTN LCD negative image transmissive with backlight
PV Display: Orange color backlight
SV Display: Green color backlight
Certification and Compliances:
Safety: UL Recognized Component, File E243710 Vol. 1
EC Declaration LVD: EN61010-1; 2010
EMC: EN61326-1; 2013, EN61131-2; 2007, EN61000-6; 2005, EN61000-6-4; 2007/A1; 2011 IP66 Enclosure rating (face only), IEC60529 Edition 2.1 2001-02
INPUT SPECIFICATIONS
Sample Rate: 100ms
Sensor Input Overvoltage Rating: 15 Vdc
RTD Inputs
Type: 3 wires
Excitation: 180µA
Lead Resistance: 15OΩ max per wire
Resolution: 1 or 0.1ºC for all type
Thermocouple
Input Impedance: Approx. 4.7MΩ
Lead Resistance Effect: -0.3µV/Ω
Cold Junction Compensation: Less than 1.5ºC typical (max 2.0ºC) error over -10 to 50ºC ambient temperature range
Resolution: 1 or 0.1ºC for all type
Temperature Indication Accuracy:
±(0.3% of span, +1ºC) at 25ºC ambient after 20 minutes warm up. Including NIST conformity, cold junction effect, A/D conversion errors and linearization conformity

Process Indication Accuracy



*Depending on the rating of resistor 249Ω built in.

Remote Set-Point Input:
DC 0 to 10V Linear Voltage Input: Opening Jumper, resolution: 156µV/scale
DC4 20mA/0 to 20mA Input: Shorting Jumper, resolution: 0.63µA/scale
User Input: (Event Input)
Contact:
ON Resistance: 1KΩ Max.
OFF Resistance: 100KΩ Min.
Response Time: 1 sec.
CT Input:
Opening Jumper for Max 30A Measurement with 30A CT Ring, Resolution: 0.1A
Shorting Jumper for Max 100A Measurement with 100A CT Ring, Resolution: 0.1A
OUTPUT SPECIFICATIONS
Relay Output:
Type: Form A
Contact Rating: 5A @ 250 VAC or 30 VDC (Resistive Loading)
Pulse Voltage Output:
Rating: DC 12V ±10%, 40mA max with short protection.
Current Output:
DC 0 to 20mA/DC 4 to 20mA output, max resistive loading 500Ω
Resolution: 2.14µA/scale
Linear Voltage Output:
DC 0 to 10V Output, min Resistive Loading 1KΩ Resolution: 1.1mV/scale
Retransmission Output
DC 0 to 20mA/DC 4 to 20mA Output, Max Resistive Loading 500Ω Resolution: 2.09µA/scale
Rated

5

out of

5
by
W Clay
from
good quality temperature controller
This instrument does exactly what I want and is very stable. It is easy to program as long as you follow the flow chart provided.
Date published: 2021-04-07
Rated

5

out of

5
by
Pappy Balz
from
Best low cost PID controller
Great low cost PID controller and great engineering assistance.
Date published: 2021-02-26
Rated

5

out of

5
by
Pappy Balz
from
Great controlller
Great product with excellent features. Fair and away the best controller for the price.
Date published: 2021-02-19
Rated

5

out of

5
by
Anonymous
from
Great device for the cost
Great little device for the money. I used it to heat a battery at a specific ramp rate until failure. Once it ran through its autotune, it held VERY accurately to that ramp rate. It takes a bit to learn all the functions, but once you know the features you need regularly it becomes straight forward. It has a lot more functionality than I think I'd ever need.
Date published: 2020-12-24
Rated

5

out of

5
by
Anonymous
from
Nice price to feature ratio.
Easy to use, very good cost to feature ratio. Ramp functions are very useful, would have been nice to have finer resolution on ramp timing, but it works quite well.
Date published: 2020-04-25
Hi, Model CN16D3-M-AC --> Can you confirm this would work connecting the DC output of controller to the control of a SSR model SSRL240DC10? thx!
Hi Directandrew, This will not work. You'll need the version with DC pulse; CN16D3-S-AC. Best regards, Omega
Date published: 2021-01-13
What is the depth of the CN16D3-M-AC controller? Could not find the info in the manual or via chat.
Thank you for your inquiry! The depth needed for the panel cutout is 79.7mm. If you need the depth for the entire controller itself please reach out to temp@omega.com.
Date published: 2021-05-28
On the manual it lists the factory setting for the temperature lower limit is -200C, does that mean that it can accurately measure values at -200C and then heat up to room temperature? We are trying to use this controller with a low temperature system.
This unit can control process temps to -200 C accurately if the sensor accuracy is compatible with the temperature range as well. Example of compatible sensor is the PT100 RTD. And example probe is ; PR-11-2-100-1/8-12-E Thank you for your question.
Date published: 2019-07-01
What are the panel cutout dimensions? Also, is there a 2D dxf file available?
The dimensions of the panel cutouts are on page 2 of the users guide and there are no files available to provide.
Date published: 2020-10-14
I bought the CN08D3-R-DC Model to control a 600W heater. The output type is relay, so does that mean I do not need to connect an external SSR to switch the heater?
Thank you for your inquiry ywt2138. The CN08D3-R-DC has a relay output is rated for 5 A at 250 Vac.
Date published: 2023-03-13
What the screen displays on start up does not match anything I see in the manual. Is there a set up guide? The manual does not include a set up guide.
Hi Rob, Thank you for the inquiry. Sorry, that we do not have strart up. Manual goes directly in to set up pages. Please see the manual page 3. Refers to the 3 modes Regulation, Operation, and Initial Setting modes and how to navigate between modes. https://assets.omega.com/manuals/M-CND3.pdf Best regards OMEGA
Date published: 2021-03-07
What is the min and max temperature range for the temp controller?
Thank you for your inquiry. The Operating Temperature Range is 0°C ~ 50°C.
Date published: 2021-12-13
how can we do different slopes with different steps?
Thank you for your inquiry. Unfortunately you can perform this function with this unit.
Date published: 2022-06-24
do you have an example of setting up a pattern in the CND3 controller? I have set the pattern 0, turned on prog mode. Put system in RUN, it just heats and heats. Does the pattern wait to hit temperature before moving on
Thank you for the inquiry. Please forward this in an email to TEMP@OMEGA.COM so that we can help you trouble shoot the problem. Note; Start you first target temperature to ambient room temp. Best regards OMEGA
Date published: 2020-07-24
Does this controller have a ramp to setpoint feature (or slope SV) that would work while a remote setpoint is used?
Thank you for your inquiry. This unit cannot use the SLOPE SV feature and REMOTE at the same time.
Date published: 2020-05-10
Does this Alarm stay latched and not be able to be reset if it is in an alarm condition. Example: Target heating SP of 800F and alarm high set at 1000F. If the PV is at 1050F, can you reset the alarm function? Same with a low temp alarm for cooling?
Thank you for your inquiry. Alarms can be reset by activating the F1/F2 Buttons as reset.
Date published: 2020-10-02
Does the derivative control mode actually work in these controller's? I purchased 6 of the 1/32 Din's with no derivative action - to verify, we set Kd to max with no effect on controller output.
Thank you for your inquiry. We believe the best assistance would come from speaking to us directly at 888-826-6342 ask for the Temperature Department (HOURS 8:30AM - 6:30PM EST).
Date published: 2022-03-18
What are the dimensions on the CN08D3?
Thank you for your inquiry. The dimensions on the CN08D3 are: 48 H x 96 W x 80 mm D.
Date published: 2023-12-07
I have a CN08D3-L-AC controller. The manual describes a "remote mode" that would allow the setting value to be controlled with a 0-10V analog signal. Can I add this feature by adding a remote board to the controller? If so, what is the part number?
Thank you for your inquiry. The unit can accept the signal directly. No extra hardware needed.
Date published: 2021-12-13
Is the SYNC Configuration Software used to configure the CN16D3-MR-2U-CM-AC. Can the setting in the instrument be saved to disk and downloaded into another like instrument.
Hi Gharter, Thank you for the inquiry. SYNC program does not work with this controller. If you purchase the RS485 option with this controller you can use the free software linked up next to manuals on this web page. You would also need an RS485 to USB converter for your PC. Please forward questions on CND3 series software to TEMP@OMEGA.COM Best regards, OMEGA
Date published: 2022-11-18
Are there any videos or guidance on how I can set up this device? Now I can only find a sketch on the side of the controller. I basically don't know which joint should be conncected if this is only the reference
Hi David1996, Thank you for the inquiry. Please forward you request to TEMP@OMEGA.COM. Best regards OMEGA
Date published: 2022-04-12
Is it correct that CN16D3-L-AC has one alarm relay with contacts rated for 3A?
Hi Sketel, The CND3 series include 2 alarm outputs rated 3 amps resistive load. The L designation is for a voltage output for control. Best regards OMEGA
Date published: 2020-10-30
Does this have ramp and soak? If so how many
Thank you for your inquiry. This unit provides 16 patterns (programs) with 16 steps (8 ramp/ 8 soak) each,
Date published: 2020-05-26
The manual (p13) talks about setting the "control period". Exactly which parameter is this? Thank you
The Control Period is the period of PID operation, if the control period is 10s, it means a PID operation is carried out every 10s. The result is then output to control the temperature. If the system heats up quickly, the control period shall not be set too long. For relay output, the lifespan of the relay shall be considered; a short period will shorten the lifespan of relay. Parameter "o1-H, o1-C, o2-H, o2-C"
Date published: 2021-12-13
What is the depth measurement of CN16D3-LR-2U-CM-DC? I have the panel cutout size from the manual, but I haven't been able to find a dimension for how far it will stick into the cabinet.
Thank you for your inquiry. The faceplate has a depth of 9.5mm. The remaining depth is 80.0mm.
Date published: 2022-03-30
Is there a changelog for new versions?  We recently replaced some v2.8s with v2.9s and they don't seem to hold settings after power loss (at least not the thermocouple type).  We're using model CN16D3-MR-2U-CM-DC
Hi Collin, Thank you for the inquiry. For a list of parameters not stored in nonvolatile memory please forward this request to TEMP@OMEGA.COM. Best regards, OMEGA
Date published: 2023-03-10
I have an AC device (CN16D3-LR-2U-CM-AC) rated at 100-240 V. How do I go about powering it? My device didn't include a power supply, but I noticed the rating matches the average outlet voltage, can it be powered directly without a transformer?
Thank you for your inquiry. This controller is designed to be panel mounted and hard wired to the rear screw terminals with standard AC power (100 - 240 VAC). A power supply or transformer is not required.
Date published: 2021-08-23
Is there a CAD model available, or a 2D drawing, to help with component layout and size/space requirements?
Thank you for your request. Unfortunately, we do not provide CAD, Step Files, 3D model or 2-Dimensional Drawings for this product. We have measurements listed on the specification sheet and/or manual.
Date published: 2022-05-02
Is output 1 the linear V output. Is it max 250V @ 5amp? Can it work on a contactor with a 110/120V coil?
Thank you for your inquiry Tennessee1074. The 250 Vac @ 5 A output you are referring to is for the relay output of the controller. Yes, it can handle any voltage below 250 Vac as long the current rating of the load is below 5 A.
Date published: 2022-12-22