Skip to main content
Skip to navigation
DISCONTINUED - Close Range Ultrasonic Distance and Level Sensor
Close Range Ultrasonic Distance and Level Sensor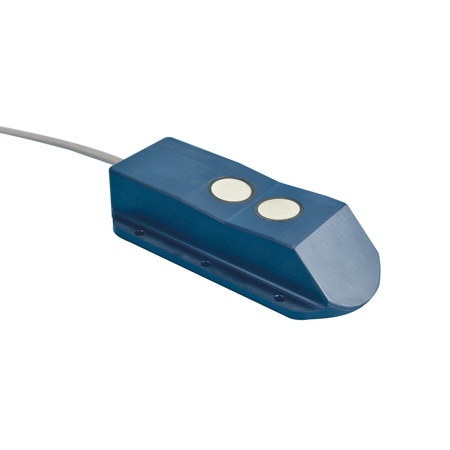 Temperature Compensated
Works on Uneven Solids or Liquids
Up to 32 Sensors on RS485 Multi-Drop
0 to 10V or 4 to 20 mA Models Available
The OMEGA™ LVTX-10 Series sensors are low profile designed ultrasonic transmitter modules optimized to provide continuous measurement of fluids, pastes, or uneven solid bulk materials in constrained working zones. Incorporating state-of-the-art dual-sensor ultrasonic technology and processing algorithms, all LVTX-10 sensors provide accurate measurement for factory automation, warehouse materials control, pipe and conveyor belt blockage, or tank level applications with non-uniform surfaces.

LVTX-10 sensors include an advanced diagnostic feature that will retrieve the ultrasonic waveform for analysis, and display it on any computer to aid users with debugging complex installations. For solid materials, surface unevenness is unlikely to affect maximum ranging capability. An integrated mounting plate with pre-formed holes is provided for easy installation. All models are equipped with continuous temperature compensation to ensure precise speed of sound calibration and measurement accuracy. Other friendly use features include diagnostic and monitoring outputs, protection from over voltage, short circuits, and reverse polarity. Operating from 12 to 24 Vdc, all OMEGA LVTX-10 sensors provide a linear output of either 0 to 10 Vdc or 4 to 20 mA, that are proportional to the measured distance to the target. The output range is readily programmable to accommodate a wide variety of set-up and application conditions. In addition, this output voltage can be set to operate as a digital switch within zones defined by specified target set-point distances, enhancing the sensor's flexibility for use in non-routine applications. The measurement parameters and outputs are programmed using a common standard RS485 data link to ensure set-up uniformity. Compatible with Microsoft Windows® operating systems using a USB/RS485 or RS232/ RS485 converter, up to 32 sensors can be connected in parallel onto the same multidrop communication network using the supplied protocol. This network also enables users to remotely program their sensors and read target distances for quick integration into control applications. All LVTX-10 sensors are adjustable for sampling rate, averaging measurement, analog output slope, loss-of-echo timeout, set-point hysteresis (digital switch mode) and provide a software sensor transmit trigger.

OMEGA LVTX-10 sensors provide versatile distance measurement for non-uniform liquid or solid surfaces where mounting headroom is restricted or a minimal dead-band is desired for accurate ranging with an affordable cost of ownership.