text.skipToContent
text.skipToNavigation
1/16 DIN Single Display Autotune Ramp & Soak Profile Controller
1/32 & 1/16 DIN Temperature/Process Autotune Controllers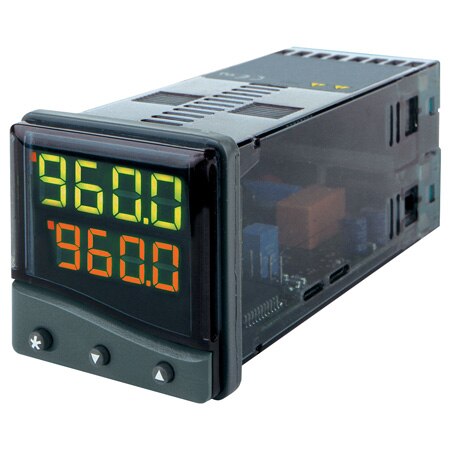 This product series is no longer available. For potential replacements please see CNI-Series , CN400-Series , or CN-4000-Series Please consult an application engineer for a more specific recommendation.
4-Digit Display
5 Alarm Configurations
Single Ramp and Soak
PID Heat-Cool Control
Description
The new 1/32 DIN CN9500, 1/16 DIN CN9300 Single Display and 1/16 DIN CN9400 Dual Display controllers follow the OMEGA tradition of innovative design. Building on the success of the CN132-Series and CN9000A series, the new models include several new features, the most important being the option of a low cost serial communicating system with easy to use Windows-based software. The CN9-SW series software bridges the gap between the "stand alone" system and full SCADA of Fieldbus control networks by providing a facility for remote supervision of up to 32 instruments using MODBUS protocol. It requires only a modest investment and can be operated by anyone with a medium specification PC or laptop that can be run with Windows 95, 98, NT, or XP.
Accessories
Trim Plate adapter, 1/16 to 1/4 DIN panel cutout. Field Installable.
Noise Suppression RC snubber (2 leads),110 to 230 Vac