Skip to main content
Skip to navigation
DISCONTINUED - 1/4 DIN Temperature 6 or 12 Channel Monitor with One Alarm and Communications Standard
1/4 DIN Temperature 6 or 12 Channel Monitor with One Alarm and Communications Standard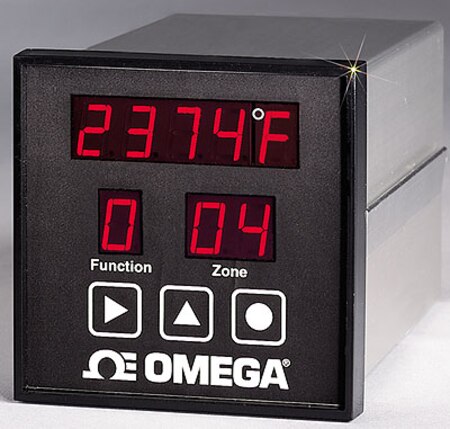 User Programmable
Hi, Lo or Hi/Lo Alarms
Password Protected
Adjustable Scan Time
The DC powered models of the CN600 series haves been discontinued. Please see the DP600A DP600A Series for the DC powered next generation replacements.
The CN600 Series are microprocessor-based scanners which accept the same input type signals from up to 12 thermocouples or RTD's. Each zone is sequentially scanned and active zones are displayed. Individual zones can be locked for monitoring. Each instrument is programmable to meet the operator's needs for thermocouple or RTD input type, degree scale, latching or non-latching, and HI, LO or HI/LO alarms. Memory and setpoints are retained when power is off.
The RS-232 program can monitor up to ten units. All CN600 Series Scanners have RS-232 three-wire serial communications. Up to 10 scanners can be daisy-chained together. CN600-SOFT software is included with every unit at no charge. Windows 16/32 bit Operating Systems(Windows 95 through XP fully supported)
Line voltage is 120 Vac or 240 Vac selectable by external jumper assembly. On the back of the instrument are easy-to-use screw terminal connections.
The CN600 Series implements a security password to protect settings.
The password can be enabled or disabled on the front panel and changed via RS-232. Calibration is performed from the front panel and is separately password protected. Higher level passwords are available.
The instrument mounts in a 1/4 DIN panel cutout and is secured by slide brackets. It does not have to be removed from its housing to be mounted. The instrument is housed in a 1/4 DIN aluminum box.
Optional models available are 6 Zone Thermocouple with Output Card, 12 Zone Thermocouple, 6 Zone RTD or 12 Zone RTD.
A single output relay is provided to indicate an alarm condition on any zone. The instrument shows an alarm condition by flashing the main temperature display while indicating the zone in alarm with a flashing zone number display. The alarm automatically shuts itself off when the condition changes in the non-latching setting and is manually reset in the latching setting.
There are two modes the monitor can be set for: RUN and FUNCTION SELECT. RUN is the basic operating mode. FUNCTION SELECT is the password protected settings selection and control mode:


One of ten functions can be selected:
• "RUN" MODE
• "FUNCTION SELECT"
• Select Active Zones
• Set LO Setpoint
• Set HI Setpoint
• Serial Number
• Set Scan Time
• Select Model
• Password Enable
• Calibration