Skip to main content
Skip to navigation
8 or 16 Channel Universal Input Touch Screen Data Loggers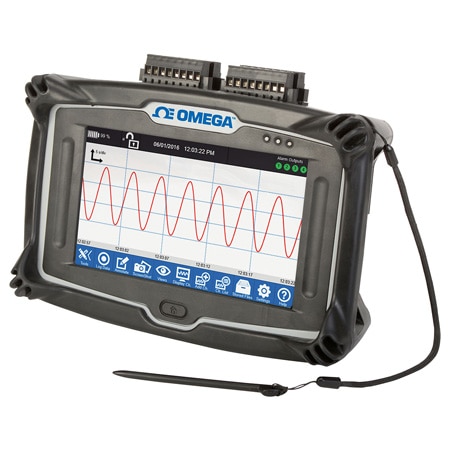 Item# OM-DAQXL-1-NA
Volume discounts available
| Quantity | Price each |
| --- | --- |
| 1-4 | C$3,105.47 |
| 5-9 | C$2,950.20 |
| 10-24 | C$2,888.09 |
| 25-49 | C$2,763.87 |
| 50-99 | C$2,701.76 |
| 100+ | C$2,639.65 |
Please contact Technical Sales Team for assistance. Any remaining stock is available for purchase
Added to Your Shopping Cart
Configuration complete.
Please add to cart to keep it or exit the configuration
Failed to Save Configurations, Click on Configure Button Start Again
This product has been discontinued, for a possible replacement, please see OM-CP-OCTPRO-LOGGER
New Ethernet and WiFi Models Available Now
7 Touch Screen TFT Display
8 or 16 Analog Channel Inputs and 8 Digital I/O
IIoT-Ready through OPC UA/DA via OEG Data Logging Software
OM-DAQXL-1-NA Model Options
View all models
Edit these specs to order a different model. Not all combinations are valid. Options compatible with previous selections will be in bold.
*Highlighted options are not compatible. Please select a different combination.
OM-DAQXL is an 8 or 16 channel analog input portable data logger with a 7 inch resistive touch color display. All inputs are programmable and can be configured for millivolts, volts, milliamps, thermocouple, RTD, thermistor, strain gauge, or frequency. All the menus, selections, and configurations can be done from the display touch screen. The unit also has 4 digital inputs, 4 digital outputs, 4 alarm outputs, one USB host port and one USB device port. The unit also has 3 LEDs for different indications (Power, Alarm and Logging).
The OM-DAQXL comes complete with protective rubber boot, rechargeable lithium ion battery, 32 GB SD card, one plastic stylus, 1 GB USB thumb drive, 1.8 m (6') USB cable, 1.8 m (6') digital I/O cable, alarm/excitation terminal block, universal AC adaptor, screwdriver, quick start guide, set of 5 PTFE insulated Type K thermocouples, set of 5 ferrites to install on the thermocouple inputs (for noise reduction) and crimp-on ground lug. The unit can be wall mounted using the provided keyhole mount or operated on a bench using the tilt stand. The USB Wi-Fi Dongle will come in a separate package for '-EW' Models.
The OM-DAQXL-EW version can be integrated into an automated data collection and monitoring software. An Ethernet Modbus/RTU connection allows the unit to be easily connected to
Omega's OEG Data Logging and Monitoring software
that provides extended Historian, Alarming, Analytics and OPC UA/DA system integration support. An optional USB-WiFi adaptor further extends the OM-DAQXL-EW connectivity by offering a WiFi connection to Omega Enterprise Gateway (OEG). Devices that are paired with data logging software enhances situational awareness and process optimization so you can speed up decision-making with real-time analytics.
Home Screen
The home screen is the main screen of the data logger's user interface. It is divided into 3 distinct sections as shown on the PDF.
Digital Display View
Status/Information Display:
This status bar provides information such as Battery Charge percentage, System Clock (displays current Time & Date), Lock/Unlock data logger, status of the 4 Alarm Outputs, and Logging Mode indication.
Data Display Area:
This is the area where different inputs (up to 4 Channels) are displayed vs. time. The data is displayed in 4 different ways: Waveform, Waveform & Table, Table only, and Digital. In the Digital view, each channel name and number are displayed along with the value.
Navigation Toolbar:
This toolbar provides access to all the functions and menus of the data logger. You can extend or retract the toolbar by pressing the Tool button. The following flow chart shows all the functionalities of the buttons of the toolbar.
Standalone Operation
The OM-DAQXL's touch screen user interface (UI) makes configuring the data logger for operation straight forward and simple. Recorded data files can easily be reviewed and analyzed on the OM-DAQXL. For data analysis on a computer, simply transfer the data file from the SD card or USB thumb drive to the PC and open the selected data file into Excel® or other data analysis software.
SPECIFICATIONS
Screen:
7 inch, TFT, resistive touch comes with plastic stylus
Rubber Boot:
Black
Analog Input Type:
Thermocouple, thermistor, RTD, strain gauge, DC voltage, DC current
Thermocouple Types:
J, K, T, E, R, S, B, C, N
T/C Type

Accuracy at Positive Range
(and above -49°C)

Accuracy at Negative Range
(-50°C to -200°C)

J

±(0.15% of range + 1.1°C)
±(0.25% of range + 1.1°C)

K

T

±(0.15% of range + 1.7°C)
±(0.25% of range + 2.6°C)

E

N

R

±(0.15% of range + 2.0°C)
±(0.25% of range + 2.6°C)

S

B

C
Thermocouple Accuracy:
Type J or K:
±(0.15% of rdg + 1.1°C)
Type T, E or N:
±(0.15% of rdg + 1.7°C)
Type R, S, B or C:
±(0.15% of rdg + 2.0°C)
RTD Types:
Pt100, Pt500, Pt1000 (0.00385 or 0.00392 curve); 2, 3 or 4-wire
RTD Accuracy:
±(0.25% of rdg + 1°C)
Thermistor Types:
2252Ω/10KΩ
Thermistor Accuracy:
±1.0°C
DC Voltage Input
Voltage Range
Measurement Range
Accuracy
50 mV
-50 to 50 mV
± 0.1% of FS
100 mV
-100 to 100 mV
1V
-1.00 to 1.00V
5V
-5.00 to 5.00V
10V
-10.00 to 10.00V
20V
-20.00 to 20.00V
50V
-30.00 to 30.00V
± 0.1V
DC Current Input
Current Range
Measurement Range
Accuracy
20 mA
-20 to 20 mA
± 0.1% of FS
DC Current Input Range:
±20 mA
Current Accuracy:
±0.1% of FS
Strain Gauge Type:
100Ω full bridge, 350Ω full bridge
Strain Gauge Excitation:
5V, 10V (only available on channels 1,3,9,11 )
Digital Input Type:
Pulse/Frequency
Frequency/Pulse Input:
0 to 250 KHz
Frequency Accuracy:
±2 Hz
Sampling Rate:
125 s/sec (Max) to 1 s/hour (Min)
Maximum Sampling Rate per Number of Channels (Analog and Digital):
1 Channel:
125 s/sec
2 Channels:
50 s/sec
4 Channels:
25 s/sec
8 Channels:
10 s/sec
16 Channels:
5 s/sec
Logging Rate:
125 s/sec (Max) to 1 s/hour (Min)
Maximum Logging Rate per Number of Channels (Analog and Digital):
1 Channel:
125 s/sec
2 Channels:
50 s/sec
4 Channels:
25 s/sec
8 Channels:
10 s/sec
16 Channels:
5 s/sec
Excitation to Power External Transmitter:
24 Vdc @ 50 mA output–set in data session setting
Filter Options:
Per channel selectable moving average filter: None, 2, 5, 10, 20 or 100 samples
Number of Samples for Moving Average Filter per Channel:
Up to 50 samples
Math (Virtual) Channels:
8 or 16
Digital Inputs:
4 Schmitt trigger based inputs
Range:
0 to 24 Vdc single-ended
Logic High Threshold:
2.5V
Logic Low Threshold:
1.5V
Digital Outputs:
4 channels, open collector, 5V @ 50 mA
Alarm Output:
4, Open collector, 30V @ 500 mA
Alarms per Channel:
Two
Alarm Types:
High, low, windows in, windows out, open sensor
Alarm Latching:
Settable in alarm menu
On Alarm Event:
Map to 4 alarm outputs, take screen shot, sound buzzer
Logging Conditions:
On command or based on trigger conditions
Start and Stop Trigger Conditions:
Timer, date and time, weekday and time, alarm output, external trigger
Memory:
Internal:
1 GB
SD Card:
32 GB
USB Drive:
32 GB
USB Ports:
One host and one device
Battery:
Rechargeable lithium-ion; 7.2V @ 4.8 Ah
Battery Life:
4 to 8 hours based on display setting
DC Adaptor:
12 Vdc @ 5A
Operating Environment:
0 to 50°C (32 to 122°F), 0 to 95%RH non-condensing
General Dimensions:
28.6 L x 15.24 H x 6.35 cm D (9 x 6 x 2.5")
Weight:
1.13 kg (2.5 lbs)
Supported Wireless Type:
802.11B, 802.11G, 802.11n
Supported Encryption:
WPA, WPA2
Max. Throughput:
150Mbit/s
Max. Range:
Various depends on Wireless Router
Ethernet Version
Interface:
RJ45 port
Recommended Ethernet Cable:
CAT5 shielded
For Connectivity:
Support Modbus Protocol (no need to mention RTU/ TCP/IP)
Support OPC UA/DA via Omega Enterprise Gateway
Support WebAPI via Omega Enterprise Gateway
Rated

1

out of

5
by
Automation Specialist
from
Don't Buy It
We are on our second unit and it snow failing to boot up just like the first one. There is a major flaw in these units. OM-DAQXL-EW-NA
Date published: 2019-09-19
Rated

1

out of

5
by
Paul C
from
Junk
Fails to boot often, goes buggy and requires a reboot. Each channel give a different reading for the same TC, and it now keeps asking me to login about every 30 seconds over and over. Omega policy is once you open the item, you're stuck with it. Look elsewhere.
Date published: 2019-08-29
Rated

1

out of

5
by
Charles12355
from
Trash
It crashes on bootup, requires you to login every time, it can't use the SD card, fails to log data, and has terrible noise on he data it does record. Don't waste your time fighting with it.
Date published: 2022-04-27
Rated

1

out of

5
by
David K
from
Expensive Junk
Has great features but can no longer edit any channels. T/c no longer read anything. from the beginning we were never able to get into the admin profile even with Omega's help.
Date published: 2020-03-04
The software datalogger can export the data to excel file?
Thank you for your question. There is no software associated with the logger. It is completely stand-alone and data can be stored to usb stick or sd card and stored as CSV excel compatible file and than copied to PC.
Date published: 2021-10-20
I would like to measure the resistance of a thermal switch to observe the temperature at which the switch opens. Is the OM-DAQXL-1-NA capable of this?
Thank you for your question. Unfortunately, it cannot. Just sensors/inputs specified.
Date published: 2023-11-09
How to reset initial admin user name and password if someone else set and forgot about it?
Thank you for your question. We will require more information to help on this question, please email the DAS team at DAS@OMEGA.COM
Date published: 2022-10-14
Are the inputs electrically isolated from each other?   What is the max voltage between inputs?
Thank you for your questions. There is no isolation between the channels.
Date published: 2021-09-29
How do I hook up an encoder signal A+, A-, B+, B-?
Thank you for your question. Unfortunately, the Om-daqxl-1-na is not able to take an encoder input.
Date published: 2020-10-13
What is the recommended calibration/maintenance frequency for the 16 Channel Universal Input Touch Screen Data Logger Item# OM-DAQXL-1-BR?
Thank you for your question. We do not have a recommended time period for calibration.
Date published: 2022-01-25
What is the part number for the terminal blocks for the channel inputs on OM-DAQXL-1-NA? I ordered 6 of the OM-DAQXL-TB8 and that is for the alarm/excitation (not the one I need).
OM-DAQXL-CONN-INPUT is the 8 position connector for channel inputs.
Date published: 2019-06-20
If we wanted to monitor a speed sensor using the digital frequency input, would there be an issue if the output went from 1.2V (Low Logic) to 12V (High Logic) for each pulse? Or would we need to moderate the voltage to Transistor Logic levels (0V to 5V)?
Hello Arturo For logic levels on this device you would need to moderate them down to 1.5 (low) to 2.5 (high)
Date published: 2019-07-26
More Related Items