Skip to main content
Skip to navigation
Tri-Axial Shock Data Logger, Part of the NOMAD® Family
Tri-Axial Shock Data Logger, Part of the NOMAD® Family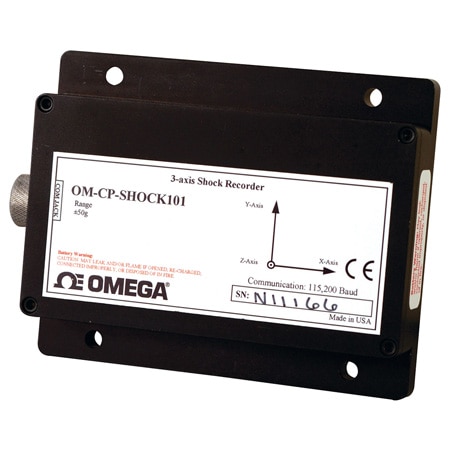 Built-In Accelerometers
Measures Dynamic and Static Acceleration
Real-Time Operation
Programmable Start Time
A newer version of this product is available with better features at a lower price! Please see OM-CP-SHOCK Series.
The OM-CP-SHOCK101 is a battery powered, stand-alone 3-axis shock data logger that measures and records shock levels. These compact, economical units have built-in accelerometers to measure dynamic and static acceleration, and may be used in a wide variety of applications, including assembly line monitoring, fragility testing, drop testing and other machinery monitoring.

The OM-CP-SHOCK101 records the peak acceleration levels over user defined intervals, with a software selectable reading rate from 64 per sec to every 5 minutes. The sample rate is 1.953 ms/512 Hz.

The OM-CP-SHOCK101 can store up to 349,000 measurements per axis, and hold them in non-volatile solid-state memory, even when the battery is discharged. Data retrieval is quick and easy-simply plug in to a COM or USB port. The OM-CP-IFC software displays your data in an easy to use graph, so you can analyze your data quickly. A variety of powerful tools allow you to examine, export and print professional looking data with just a click of the mouse.

SPECIFICATIONS
Accelerometer Type: MEMS semiconductor
Sampling Rate: 1.953 ms/512 Hz
Frequency Response: 0 to approx. 400 Hz
Recording Interval: 64 Hz to 5 minutes for shock, software selectable
Memory: 349,525 readings per axis (1,398,100 total readings)
Real Time Recording: May be used with PC to monitor and record instantaneous acceleration in real time (1 sec or slower reading rate, not possible during logging)
Start Modes: Software programmable immediate start or delay start up to 180 days in advance
Password Protection: An optional password may be programmed into the device to restrict access to configuration options. Data may be read out without the password
Calibration: Digital calibration through software
Calibration Date: Automatically recorded within device
Power: 9 V lithium or alkaline battery (included), user replaceable
Battery Life: 7 days typical with lithium battery
Data Format: Date and time stamped gravities (3-axis)
Time Accuracy: ±1 minute per month at 20 to 30°C
Computer Interface: USB or serial interface (cable required); 115,200 baud
Software: XP SP3/Vista/7 and 8 (32-bit and 64-bit)
Operating Environment: -20 to 60°C (-4 to 140°F), 0 to 95% RH, non-condensing
Dimensions: 89 H x 112 W x 26 mm D (3.5 x 4.4 x 1.0')
Weight: 340 g (12 oz)
Material: Anodized aluminum
Secure Software for Use with OM-CP Series Data Loggers
Software and Accessories
Magnet mount kit for tri-axial shock data loggers
This item is discontinued. Please contact Technical Sales Team for assistance.