text.skipToContent
text.skipToNavigation
4 Channel Voltage Data Logger Part of the NOMAD® Family
4 Channel Voltage Data Logger Part of the NOMAD® Family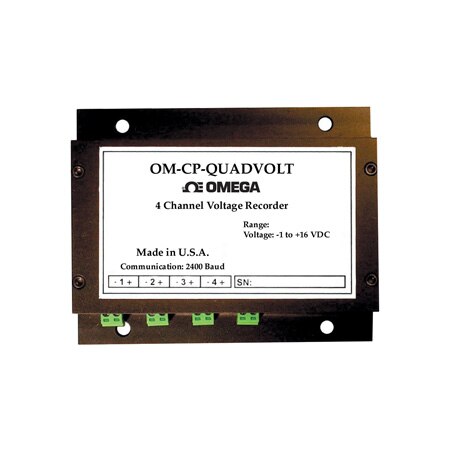 '
This product is no longer available.Please see OM-CP-QUADVOLT-32V-A2 for a newer product with improved features!
'
Description
The OM-CP-QUADVOLT are low cost, high resolution, miniature battery powered, stand-alone voltage input dataloggers. In addition, the OM-CP-QUADVOLT allows the user to store user defined engineering units into the device as well as scale factors and offset values. This enables the user to easily linearize and scale any transducer that provides a voltage to any user required units automatically. This all-in-one compact, portable, easy-to- use device will measure and record up to 32,768 voltage measurements per channel.

The OM-CP-QUADVOLT is a major leap forward in both size and performance. Its real time clock ensures that all data is time and date stamped. The storage medium is non-volatile solid state memory, providing maximum data security even if the battery becomes discharged. Its small size allows it to fit almost anywhere. Data retrieval is simple. Plug it into an empty COM port and our easy to use software does the rest. The software converts your PC into a real time strip chart recorder. Data can be printed in graphical or tabular format and can be exported to a text or Microsoft Excel file.
Accessories
Replacement 9V lithium battery
Windows software and 1.8 m (6') USB interface cable