Skip to main content
Skip to navigation
Female/Female Thread Connection, Inline Tension Link Load Cell
100,000 lbf, ±0.1%, Linearity, 2 mV/V Output, Cable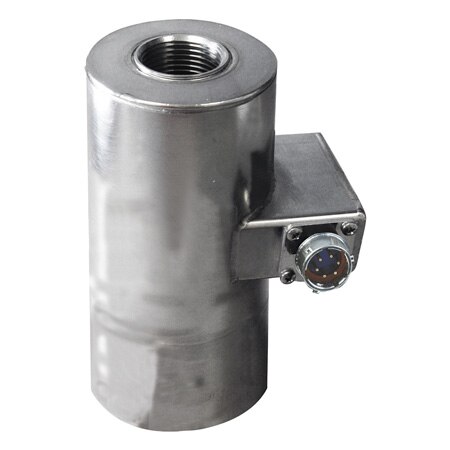 Female to Female Thread Connection
All Stainless Steel Construction
Accuracy of 0.15%
Heavy-Duty Construction for High-Capacity Loads
Description
OMEGA's LC706/716 Seriestension links have a female tofemale thread connectionLC706 with a 1.8 m (6') cable, andLC716 with an integral connector.Both series are comprised ofall stainless steel. Applicationsinclude cables on cranes, supportrods in architectural designs,engine test beds, suspensionbridges and industrial weighing.

Specifications
Output: 2 mV/V ±0.25 % FSO
Excitation: 10 Vdc (15V max)
Linearity: ±0.10% FSO
Hysteresis: ±0.10% FSO
Repeatability: ±0.05% FSO
Zero Balance: ±1.0% FSO
Operating Temp Range:-34 to 121°C (-30 to 250°F)
Compensated Temp Range:16 to 71°C (60 to 160°F)
Thermal Effects:
&nbsp&nbsp&nbsp&nbspZero & Span: ±0.009% FSO/°C(±0.005% FSO/°F)
Safe Overload: 150% of capacity
Ultimate Overload: 300% of capacity
Bridge Resistance: 350 Ω
Construction: Stainless steel
Electrical:
&nbsp&nbsp&nbsp&nbspLC706: 1.8 m (6') 4-conductor cable
&nbsp&nbsp&nbsp&nbspLC716: DT02H-10-6P (or equiv.)
Protection Class: IP67
Mating Connector: PT06F10-6S, (sold separately)
Calibration: Calibrated in tension for capacities <100K lbs*
* ≥100,000 lb calibrated in compression.
For calibrations ≥300,000 lb, add suffix "-FS" and consult Sales for price and delivery.
Accessories
Accessories - Compatible Panel Meters and Signal Conditioners
Accessories and Compatible Meters