Skip to main content
Skip to navigation
Linear Actuator Slides - Pneumatic Linear Motion Modular Series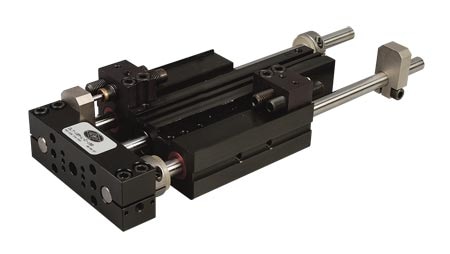 Highly Configurable Modular Automation - Exclusive DIRECTCONNECT™ - Robohand Technology
Single and Dual-Axis linear motion -typical 'PICK-N-PLACE' automation
Modular design eliminates adaptor plates - saves machining and assembly time.
Linear thruster slides can be mounted and operated in any direction
Description
DLT Linear Thruster Slides are fabricated with precision manufactured shafts and incorporate preloaded linear ball bushing for a robust guided air cylinder with excellent linear motion control. Shock absorbers and precision stop blocks create pneumatic linear motion with extreme accuracy and repeatability. Stroke lengths of 25 to 150 mm (.0984 to 5.906") with a force range from 89 to 275 N (20 to 62 lbs). DLT Thruster Slides, by Robohand, are internally powered to reduce size requirements and can be utilized in many industrial, R&D, lab, production and quality inspection applications from single direction to complex X-Y-Z motion. These pneumatic automation components are used in typical Pick-N-Place applications and can handle small to large objects. Productivity improvements and cost reduction of repetitive task can be automated in some of the following applications: assembly escapements in-line directional changes transfer of objects with precision movements. The modular design, Direct Connect Technology, allows the addition of DRF Rrotary Actuators and pneumatic grippers with out the need of adapter plates for additional savings through fast assembly and reduced machining time.

Pneumatic linear motion components are double acting air cylinders that require a dry air supply with filtering to 40 microns or better. For best control of pneumatic components, flow control valves (regulating out) should be installed to regulate the speed of the device. Position sensors can easily be added to motion components to detect the end of travel positions of the slides, they are the standard method of communication with the PLC and are available in inductive or magneto resistive sensing styles and come in both PNP or NPN sourcing signals.

TECHNICAL SPECIFICATIONS
Pneumatic Specifications
&nbsp&nbsp&nbsp&nbspPressure Operating Range*: 3 to 7 bar (40 to 100 psi)
&nbsp&nbsp&nbsp&nbspCylinder Type: Double acting
&nbsp&nbsp&nbsp&nbspDynamic Seals: Internally lubricated Buna-N
&nbsp&nbsp&nbsp&nbspValve Required to Operate: 4-way, 2-position
Air Quality Requirements
&nbsp&nbsp&nbsp&nbspAir Filtration: 40 micron or better
&nbsp&nbsp&nbsp&nbspAir Lubrication: Not necessary
&nbsp&nbsp&nbsp&nbspAir Humidity: Low moisture content (dry)
Temperature Operating Range
&nbsp&nbsp&nbsp&nbspBuna-N Seals (Standard): -35 to 80°C (-30 to 180°F)
&nbsp&nbsp&nbsp&nbspFKM Seals (Optional): -30 to 150°C (-20 to 300°F)
Maintenance Specifications
Expected Life:
&nbsp&nbsp&nbsp&nbspNormal Application: 5 million cycles
&nbsp&nbsp&nbsp&nbspWith Preventative Maintenance: 10+ million cycles**
Field Repairable: No
Seal Repair Kits Available: No
Application Restrictions: Flow controls, shock absorbers andurethane bumpers recommended for nearly all applications. Use compositebushing in dirty or gritty environments. Never use silicone based lubricants with composite bushings.
* Higher pressure possible. Consult Sales with application details.
** Addition of lubrication will greatly increase service life.

For a better understanding of the DLT Linear Slides and their accessories, use the Specs link at the top of the page to view our PDF. The Product Features or Accessories pages will assist your understanding of the slides and required components.

DLT-06M Model and Accessories
DLT-08M Model and Accessories
DLT-12M Model and Accessories
DLT-16M Model and Accessories
PNEUMATION Accessories
Sensor Accessories
Sensor Accessories - Sensors and Cables Sold Separately