Skip to main content
Skip to navigation
High Speed USB Output Pressure Transducer | PX409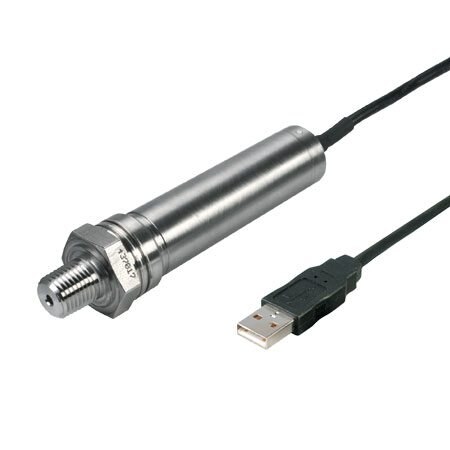 FAST DELIVERY!
High Speed! 1000 Reading/Second
Free Downloadable Software
Micro-Machined Silicon Sensor
The PX409 High-Speed USBH Series connects directly to your computer. Free software makes data logging and charting your readings a simple task. Also included are .NET drivers and a command set for command line access. The micro-machined silicon design is ideal for pressure or level applications in laboratory, test platforms, or bio/pharmaceutical applications as well as industrial applications that require a rugged, high accuracy transducer. This sensor provides a very stable transducer with an exceptional high accuracy of ±0.08% and a broad compensated range of -29 to 85°C (-20 to 185°F). The modular construction allows for fast delivery of most configurations and fittings.

FREE OMEGA™ Downloadable Software!
Free OMEGA PC software takes the data from the transmitter directly to the digital domain, turning your laptop or Windows® tablet into a virtual meter, chart recorder, or data logger. Also included are .NET APIs and a command set for command-line access. Help files are available after installation with the most update to date information.

Download your free copy today!
(Includes software to run TRH Central compatible devices).


Charting Window – The addition of a charting window allows you to see your data graphed in real time. The Y axis is configurable to allow simultaneous graphing of multiple engineering units. You can output the image of your data to a png file.

Channels Window - Display data from all of your sensors simultaneously. Each channel has configurable user alarms, three data filters, tare, resettable low/high indication, and sample rates ranging from 30 minutes to 1000Hz.

Logging Window – A new xls filetype output option presents preformatted data for readability. In addition, Live Statistics are displayed, including the sensor information, the start/stop time, the number of samples taken, the current reading, and the High/Low readings. With the logging window, you can capture your data for later analysis.

SPECIFICATIONS
Accuracy: 0.08% BSL (linearity, hysteresis and repeatability combined)
Resolution: Up to 5.5 significant figures
Zero Balance: ±0.5% full scale typical ±1% maximum (±1% typical, ±2% maximum for 2.5 psi and below)
Span Setting: ±0.5% full scale typical ±1% maximum (±1% typical, ±2% maximum for 2.5 psi and below). Calibrated in vertical direction with fitting down
Temperature Compensation (Over Compensated Range):
Span: Range > 5 psi: ±0.5%
Range ≤5 psi: ±1.0%
Zero: Range > 5 psi: ±0.5%
Range ≤ 5 psi: ±1.0%
Minimum Isolation:
100 MΩ @ 50 Vdc case to sensor
2 MΩ @ 50 Vdc case to output terminations
Pressure Cycles: 1 million, minimum
Long Term Stability (1-Year): ±0.1% full scale typical
A to D Conversion: 24-bit
Shock: 50 g, 11 mS half sine, vertical and horizontal axis
Vibration: 5-2000-5 Hz, 30 minute cycle, Curve L, Mil-Spec 810 figure 514-2-2, vertical and horizontal axis
Bandwidth: DC to 1000 updates per second typical (±3%)
Power Consumption: 0.35 W typical
CE Compliant: Meets industrial emissions and immunity EN61326
Environmental Protection: IP65
Secondary Containment
Gage/Vacuum/Compound Pressure:
10 inH2O to 5 psi: to 1000 psi
15 to 1000 psi: to 3000 psi
1500 to 5000 psi: to 10,000 psi
Absolute/Barometric Pressure:
5 to 1000 psi: to 6000 psi
1500 to 5000 psi: to 10,000 psi
Overpressure
Gage/Vacuum/Compound Pressure
10 inH2O: 10 times span
1 psi: 6 times span
2.5 psi to 1000 psi: 4 times span
1500 psi yo 5000 psi: 7250 psi maximum
Absolute/Barometric Pressure:
5 psia: 6 times span
15 psia to 1000 psia: 4 times span
1500 psia to 5000 psia: 7250 psia maximum
Wetted Parts: 316L stainless steel
Weight: 200 g (7 oz)
Operating Temperature Range: -40 to 85°C (-40 to 185°F)
Compensated Temperature:
Ranges >5 psi: -29 to 85°C (-20 to 185°F)
Ranges ≤5 psi: -17 to 85°C (0 to 185°F)
CE Approved