Skip to main content
Skip to navigation
High Accuracy Electronic Barometer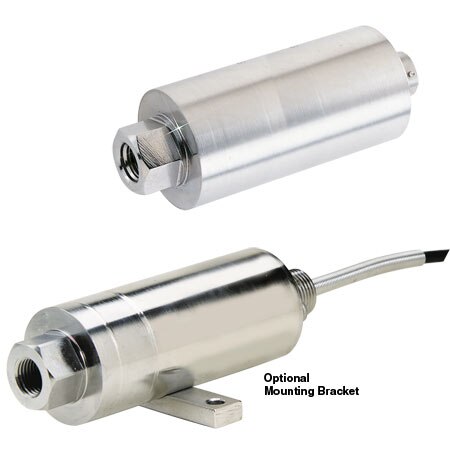 High Accuracy
Broad Compensated Temperature
-18 to 66°C (0 to 150°F)
All Stainless Steel Construction for Harsh Environments
OMEGA's PXM02 Electronic Barometer is a high accuracy, electronic barometer available in three ranges, 541 to 1.08 mbar, 880 to1.08 mbar or 948 to 1.08 mbar (absolute pressure) for laboratory or industrial test applications. They have all stainless steel construction which make them ideally suitable for harsh industrial environments. Their high operating temperature, broad compensated range and excellent temperature compensation allow stable readings in applications with fluctuating temperatures commonly found where barometric pressure must be monitored.

The PXM02-BAR is also available in standard/Imperial configurations, with NPT or UNF ports, and models from 16 to 32 inHg pressure ranges. Please see the PX02-BAR for complete details, or contact our Pressure department for more information..

SPECIFICATIONS

0 to 5 V Model
Input, Recommended: 24 to 32 Vdc
Input, Maximum: 32 Vdc
Output, FS: 0 to 5 Vdc
Linearity: ±0.15% FS
Hysteresis: ±0.1% FS
Repeatability: ±0.05% FS
Zero Balance: 0 ±10% FS, adjustable
Thermal Effects:
Span: 0.005% rdg/°F (0.009%/ºC)
Zero: 0.005% FS/°F (0.009%/ºC)
4 to 20 mA Model
Input, Recommended: 10 to 40 Vdc
Input, Maximum: 40 Vdc
Output, FS: 4 to 20 mA
Accuracy: 0.25% FS, linearity, hysteresis and repeatability combined
Zero Balance: 4 mA +10% -2% FS adj
Thermal Effects:
Span: 0.005% rdg/°F (0.009%/ºC)
Zero: 0.005% FS/°F (0.009%/ºC)

COMMON SPECIFICATIONS
Operating Temp Range: -47 to 121°C (-50 to 250°F)
Compensated Temp Range: -18 to 66°C (0 to 150°F)
Proof Pressure: 150% of rated pressure
Burst Pressure: 300% of rated pressure
Wetted Parts: 17-4 PH stainless steel
Pressure Port:
Style 'MA': G1/8 male
Style 'MB': ;G1/8 female
Style 'MC': , G1/4 male
Style 'MD': , G1/4 female, standard
Electrical Connection:
Style '0': 3 m (10 ft) cable
Style '1': PTIH-10-6P, standard
Style '6': mini DIN connector
Mating Connector:
Style '1': PT06F10-6S (sold separately)
Weight: 425 g (15 oz)
For special options consult Sales or Pressure Engineering.

Examples of pricing for popular models is referenced in the 'To Order' box. Use the 'Part Number Builder' below to get pricing for all available models.
CE Approved