text.skipToContent
text.skipToNavigation
Pressure, Humidity and Temperature Data Logger with LCD Display
Pressure, Humidity and Temperature Data Logger with LCD Display Part of the NOMAD® Family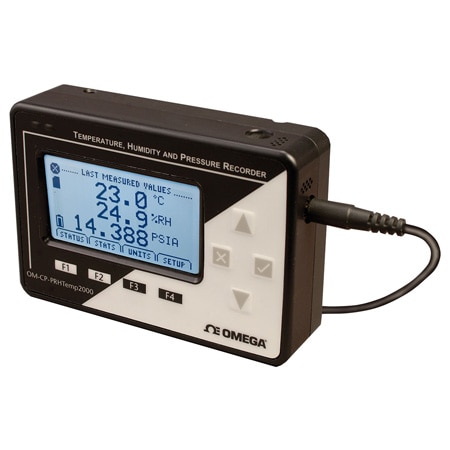 The OM-CP-PRHTEMP2000 has been discontinued. For a replacement, please consider the OM-CP-RFPRHTEMP2000A which offers the same functionality at a lower price.

Large Backlit LCD Display
Front Keypad with Lock Feature
User-Selectable Measurement Units
Simultaneous Display of Temperature
Humidity and Pressure
NIST Traceable Calibration Optional
Min/Max and Average Statistics
Programmable Start/Stop Time
Convenient Status Indicators
User Replaceable Battery
and External Power
Wall Mountable
Ready to Use Right Out-of-the-Box
Free NIST Certification
Description
The OM-CP-PRHTEMP2000 is perfect for applications requiring instant remote readings of environmental parameters, including temperature, humidity and atmospheric pressure. The 8-button keypad and large LCD provide convenient access to current data and recorder setup. Additionally, memory and battery levels, external power status, sampling and recording status are shown on the LCD. Available on-screen data includes: statistics (min, max, average) for all three channels recording status (start, stop and recording rate) display options (channels shown, units, text size) and calibration information (date calibrated, date for recalibration). Statistics can be cleared at any time during logging.
With 87,381 readings per channel, the OM-CP-PRHTEMP2000
data logger has one of the largest memory capacities
of any similar data recorder on the market. The non-volatile memory will retain recorded data, even if AC and battery power are lost. The OM-CP-PRHTEMP2000 typically runs up to one month on a user-replaceable 9V battery (at a 1-minute reading rate with continuous LCD usage and no backlight). For further power savings, both the LCD and backlight have configurable auto-off options. Those wanting to keep the LCD display and backlight continuously active need only to plug the unit to an optional AC power supply, keeping the 9V battery (included) connected as a back-up. NIST traceable calibration is available for users needing to meet regulatory requirements. Creating permanent records, performing data calculations, and the graphing of data is quick and easy: Simply connect the interface cable to an available USB or serial port and, with a few clicks of the mouse, data is downloaded and ready for review or export to Excel.
Accessories
Optional Data Logger and Accessories