An accelerometer is a device that measures the vibration, or acceleration of motion, of a structure. The force caused by vibration or a change in motion (acceleration) causes the mass to "squeeze" the piezoelectric material which produces an electrical charge that is proportional to the force exerted upon it. Since the charge is proportional to the force, and the mass is constant, then the charge is also proportional to the acceleration. These sensors are used in a variety of ways – from space stations to handheld devices – and there's a good chance you already own a device with an accelerometer in it. For example, almost all smartphones today house an accelerometer. They help the phone know whether it undergoes acceleration in any direction, and it's the reason why your phone's display switches on when you flip it. In an industrial setting, accelerometers help engineers understand a machine's stability and enable them to monitor for any unwanted forces/vibrations.
Learn more about accelerometers
How does an accelerometer work?
An accelerometer works by utilizing an electromechanical sensor that is designed to measure either static or dynamic acceleration. Static acceleration is the constant force acting on a body, like gravity or friction. These forces are predictable and uniform to a large extent. For example, the acceleration due to gravity is constant at 9.8 m/s – and the gravitation force is almost the same at every point on Earth.

Dynamic acceleration forces are non-uniform, and the best example is vibration or shock. A car crash is an excellent example of dynamic acceleration. Here, the acceleration change is sudden when compared to its previous state. The theory behind accelerometers is that they can detect acceleration and convert it into measurable quantities – like electrical signals.
Types of Accelerometers
There are several different types of accelerometers, each with its own working principle and advantages:
Piezoelectric Accelerometers
A piezoelectric accelerometer is a type of accelerometer that works by sending an electrical signal from the sensor when it experiences a sudden acceleration. The construction of a piezoelectric accelerometer involves a sensing crystal to which a seismic weight is attached. When the sensor experiences an acceleration, the weight exerts a force on the crystal. The piezoelectric crystal converts the force acting upon it to electrical signals, which can be measured to find the acceleration. Piezoelectric accelerometers are highly effective at measuring shocks and vibrations.
Piezoresistance Accelerometers
A piezoresistance - or piezoresistive - accelerometer is a type of accelerometer that works by varying their resistance based on the acceleration they experience. The change in acceleration can be measured to understand the rate of acceleration experienced by the sensor. Piezoresistive accelerometers are less sensitive than piezoelectric accelerometers, as they are not best at measuring low-frequency impacts. However, they work best at high amplitudes and find their application in vehicle crash testing and weapons testing.
Capacitive Accelerometers
Capacitive sensors work by changing their capacitance based on the acceleration they experience. Their construction involves two capacitive plates and a diaphragm. As the sensor experiences acceleration, the diaphragm moves and changes the distance between the capacitive plates. This results in the capacitance of the sensor to change, and this change in capacitance can be measured and translated to the rate of acceleration on the sensor. Capacitive MEMS (microelectromechanical system) accelerometers are used in most smartphones today.
Triaxial Accelerometers
A triaxial accelerometer is a type of accelerometer that can measure acceleration in three orthogonal directions (or the three perpendicular planes – X, Y, and Z). This feature enables triaxial accelerometers to measure all the vibration components affecting the object. A triaxial accelerometer houses three sensing elements, oriented perpendicular to each other. They find their use in measuring building vibrations, turbines, and high-speed machinery.
Key Applications of Accelerometers
Accelerometers find their purpose in many industrial, manufacturing, commercial, and laboratory applications. Digital Devices: Accelerometers in smartphones, digital cameras, and other mobile devices are responsible for rotating the display based on the orientation you hold it.

Vehicles: The invention of airbags has saved millions of lives. Accelerometers are used to trigger airbags – sensors send a signal when they experience a sudden shock. Drones: Accelerometers help drones stabilize their orientation midflight. Rotating Machinery: Accelerometers used in rotating machines detect undulating vibrations. Industrial Platforms: Industrial accelerometers are used to measure platform stability or tilt. Vibration Monitoring: Machines that move generate vibrations, and these vibrations can be harmful to the machines if left to amplify without supervision. Accelerometers are useful in monitoring vibrations and are increasingly used in locations like industrial plants and turbines.
Choose the right accelerometer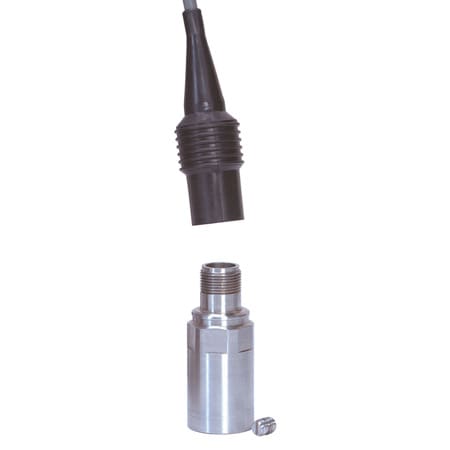 Premium Grade Accelerometer
These accelerometers are made from premium selected crystals and use low noise circuitry to product a premium, low noise, accelerometer. Their 316L Stainless steel case is hermetically sealed against the environment so they can survive harsh industrial environments. They also have FM and CSA Intrinsically safe options available. The ACC793 is a standard top cable configuration and the ACC797 is a low-profile side cable configuration.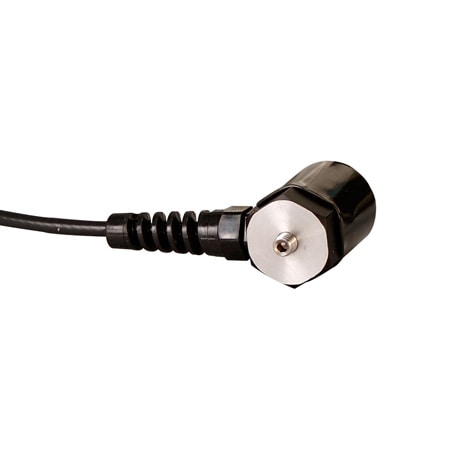 Industrial Grade Accelerometer
Industrial grade accelerometers are the workhorses of industry. The are used on everything from machine tools to paint shakers. OMEGA has four models to choose from. ACC101 (shown) is a high quality low cost accelerometer for general purpose applications. ACC 102A is hermetically sealed for harsh environments, has a fixed cable and weighs only 50 grams. The ACC786A, top cable, and ACC787A, side cable, are hermetically sealed and have detachable cables sealed against the weather.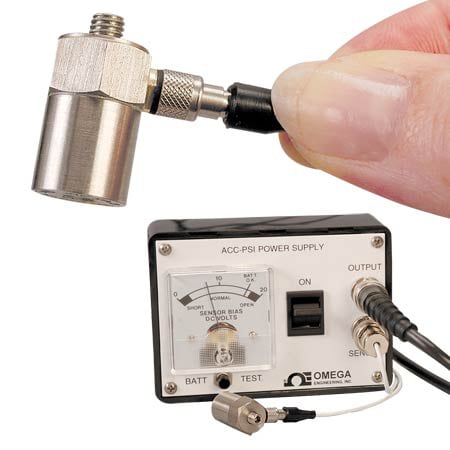 High Vibration Accelerometer
Accelerometers used to monitor high vibration levels have a lower output (10 mV/g) and lower mass than industrial accelerometers. The ACC103 weighs 15 gms and can monitor vibration levels up to 500 g's. It is a stud mount design and is designed for use on shaker tables, vibration labs and heavy industrial machine tools. The ACC104 weighs only 1.5 gms and is designed for adhesive mounting. Both models have a Frequency range of 3 to 10 kHz and a dynamic range of +/- 500 g's.
Accelerometer Installation and Mounting
Proper installation and mounting of an accelerometer are crucial to ensure accurate and reliable measurements. Here are some general guidelines to follow:

Orientation
Pay attention to the proper orientation of the accelerometer. The sensitive axis of the accelerometer, which is the axis along which acceleration is measured most accurately, should be aligned with the desired direction of measurement.

Mounting Surface
Ensure that the mounting surface is clean, flat, and free from any contaminants or irregularities that could affect the accelerometer's performance. Use a suitable adhesive or mounting method to securely attach the accelerometer to the surface.

Mechanical Isolation
Provide mechanical isolation to minimize the effects of external vibrations or shocks on the accelerometer. This can be achieved by using isolation mounts, rubber pads, or shock-absorbing materials. Avoid mounting the accelerometer directly on vibrating components or structures.

Electrical Grounding
Properly ground the accelerometer to avoid electrical noise interference. Connect the accelerometer's ground wire to a clean and reliable electrical ground point to maintain signal integrity.

Cable Routing
Pay attention to the routing of the accelerometer cable. Keep the cable away from sources of electromagnetic interference (EMI), high-voltage lines, or motors. Use cable clamps or ties to secure the cable and prevent strain on the accelerometer's connectors.

Temperature Considerations
Consider the operating temperature range of the accelerometer and ensure that the installation location is within this range. If necessary, use thermal insulation or cooling mechanisms to maintain a suitable temperature environment.

Calibration and Verification
Once the accelerometer is installed, it is important to calibrate and verify its performance. Follow the manufacture's instructions for calibration procedures or consult with a calibration service provider to ensure accurate measurements.