As part of their daily workflow, those in the food and beverage or pharmaceutical industry need to enter and exit walk-in freezers. When a freezer door is accidentally left partially open, it can lead to food spoilage and increased energy costs. This application was designed to avoid these issues by automatically detecting when a freezer door is open and subsequently triggering an alarm to alert someone to close it.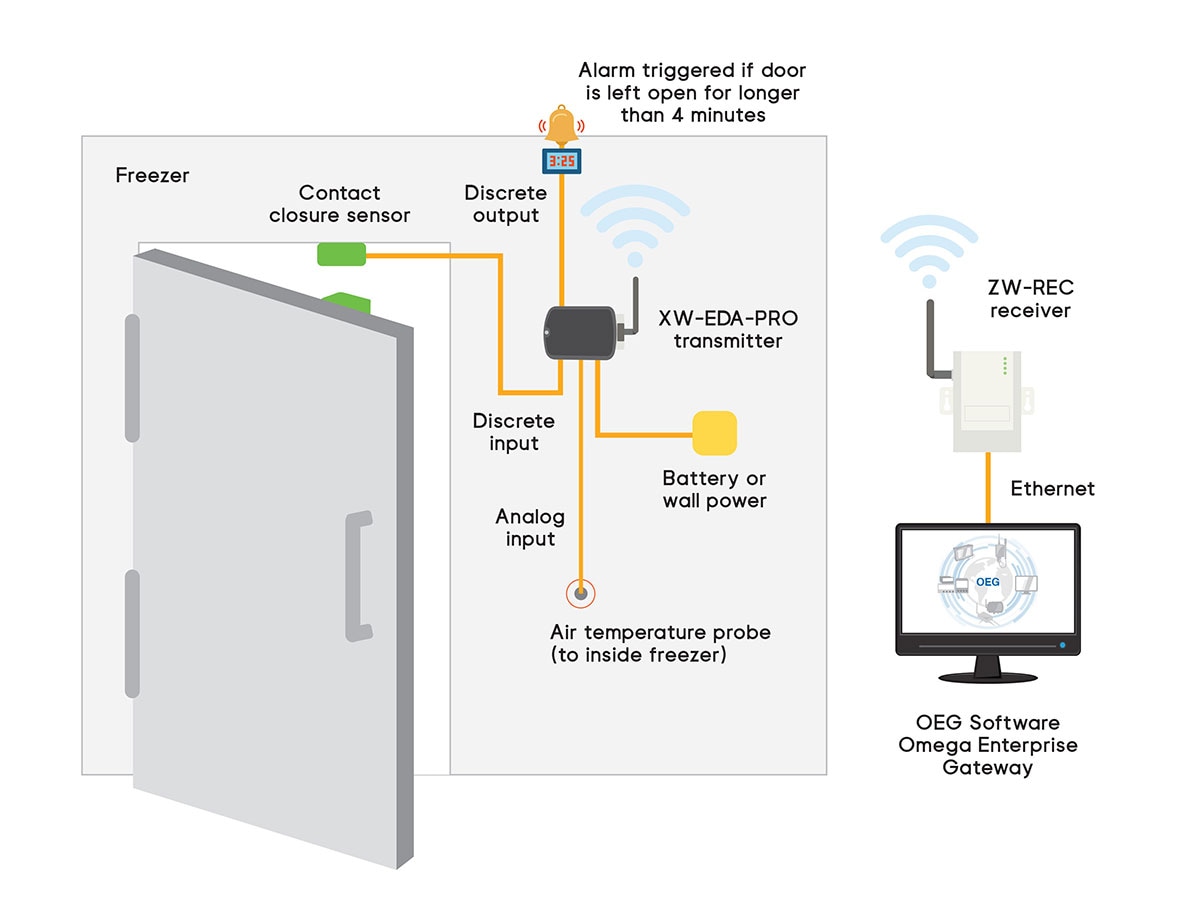 Products Used
The figure shows the schematic of the door alarm system used in this application. The system includes three products:

P-L-A-6-20-0-PS-15 Air Temperature Probe with M12 Connection Ultra-Precise Air and Gas Measurment RTD temperature sensors provide customers with a product that offers sensor accuracies that are far tighter than are available in most standard RTD sensors on the market today.

XW-EDA-PRO Smart Wireless Transmitter This rugged long range and low power consumption wireless sensor/transmitter system accepts a wide range of thermocouple, RTD temperature sensors as well as industry standard process signal inputs and includes alarm/control outputs. The radio is an IEEE 802.15.4 compliant transmitter operating at 2.4 GHz designed to transmit up to 1000m* (3280') outdoor and around 100m* (328') indoor.

ZW-REC Wireless Receiver This receivers provides robust wireless connectivity to a XW Series transmitter, and connects via Ethernet to either a PC or Server where OEG 2.0 software can reside for local and cloud data storage, alarming, and analytics.

OEG Software Easily connect your OMEGA devices into your infrastructure. The OMEGA Enterprise Gateway software (OEG) uses an intuitive web-based interface to make monitoring and control simpler and more intelligent. The software provides 24/7 real-time monitoring and historical data analysis, alarm and event notifications, and encrypted ethernet connectivity. It supports to support the needs of enterprise customers looking for on-premise solutions while offering Omega Link Cloud integration out of the box for mobile data access and notifications.
How it Works
Mount a contact closure sensor to the door opening and connect it via a discrete input to the transmitter. Hook the door contact sensor to I/O – 1.
Mount a clock with a timing mechanism and an alarm and connect it via a discrete output to the transmitter. Hook the Alarm to I/O – 0.
Mount the temperature probe to the inside of the freezer and connect it via an analog output to the transmitter.
Set an alarm in Omega Sync to trigger if the DIO >= 2 for more than 4 Minutes and to activate I/O – 0.
Now when the door is open the DIO will read 2. If it is open for more then 4 minutes it will activate the alarm and read 3. Alternatively, the Alarm can be set to latch so that it will stay on until someone presses the reset button on the XW-ED.
The transmitter will also transmit the data from the air temperature probe and the contact closure to the ZW-REC wireless receiver connected via Ethernet to OEG, a free monitoring intelligence software solution.
The software tracks the information received from the transmitter (temperature and time readings). If these readings are outside the set range (i.e. above a certain temperature threshold or beyond the four minute threshold), the OEG software will send an email notification to the appropriate person.
Results
Any time the door is left open for more than four minutes, an auditory alarm sounds, and an email notification is sent to the appropriate individual. This allows either nearby employees or the manager to respond quickly when the door is open, reducing the potential for food spoilage or increased energy costs.
Pro Tip
For better transmission distance, place the XW-ED outside the freezer.
Create a free Omega Link Cloud account and integrate with OEG 2.0 for remote monitoring.