A flow switch, like all switches, is a device designed to make and break an electric current in a circuit. In an industrial system, a flow switch is essential in monitoring and controlling the flow rate of process media – such as steam, liquids, and gases. Flow switches help maintain safe and manageable rates of flow by triggering actions in various machines within a system to provide on/off flow control of process media.

What is Flow?
In industrial processing, flow is the movement of liquids, steam, and gases through a processing system. Flow rate measurement is used to measure the volume of fluid process media passing through a specific cross-sectional area per unit of time. Monitoring flow rate measurements is essential in controlling the safe movement of fluid within an industrial system. The monitoring and control of flow is a requirement for all industries that process fluid media.
What is a Flow Switch Used For?
As previously stated, flow switches are used to monitor and control the flow rate of fluid within an industrial process system. Automated industrial systems that process fluid media rely heavily on flow switches to ensure safe and optimal flow rates. Flow switches respond to pre-set flow rate levels and perform two functions when those levels are reached: namely, closing its contacts and turning a specific piece of equipment ON, or opening its contacts and turning a specific piece of equipment OFF.
What is the difference between a flow switch and a flow sensor?
While flow switches and flow sensors both can be used to monitor media flow within a system, the difference between a flow switch and a flow sensor is that a flow sensor can only monitor and display information – flow switches monitor flow and send trip signals and trigger specific actions from machines within the system.
How Does a Flow Switch Work?
There are a variety of different types of flow switches on the market today – functioning in a variety of different ways – but what all flow switches have in common is that when the flow rate reaches a switch's set-point, it can either open or close the circuit which triggers an action: whether it's turning a pump on or off or it's actuating an alarm.

Flow switches are either configured to be Normally Open (NO) or Normally Closed (NC). This refers to the default state of the switch. With a NO switch, the circuit is open (OFF) until triggered otherwise. With a NC switch, the circuit is closed (ON) until triggered otherwise.

Types of Flow Switches
When choosing a flow switch to be used in an industrial system, it is essential that the specifics of that particular type of flow switch matches up with the application criteria of the system.

Three of the most popular types of flow switch designs are:

Paddle Flow Switches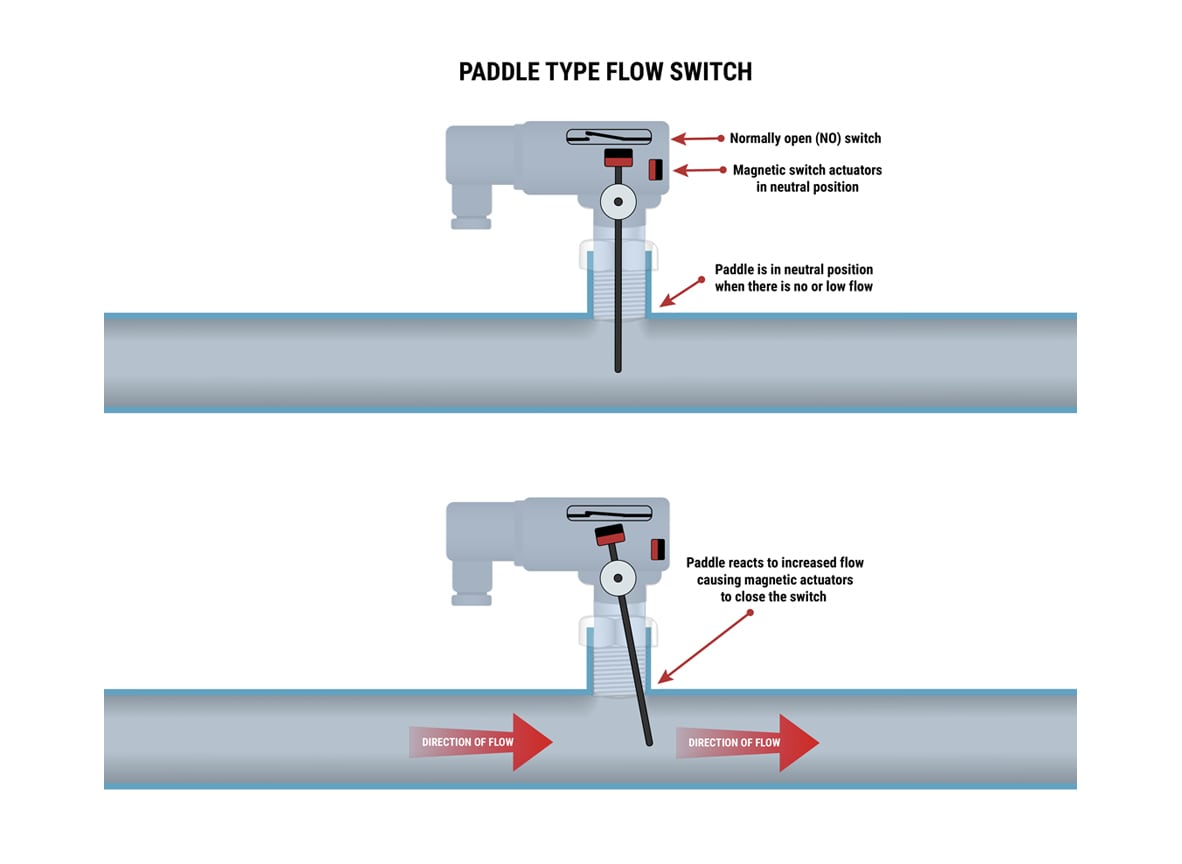 The paddle design flow switch is constructed with a hinged or spring-mounted paddle, which makes direct contact with the media flowing through the pipe. The paddle is held in position when the media is flowing at the target rate (or setpoint). An increase or a decrease in the flow rate will move the paddle from its setpoint, which, in turn, throws a small switch triggering the specified action.

Piston or Shuttle Flow Switches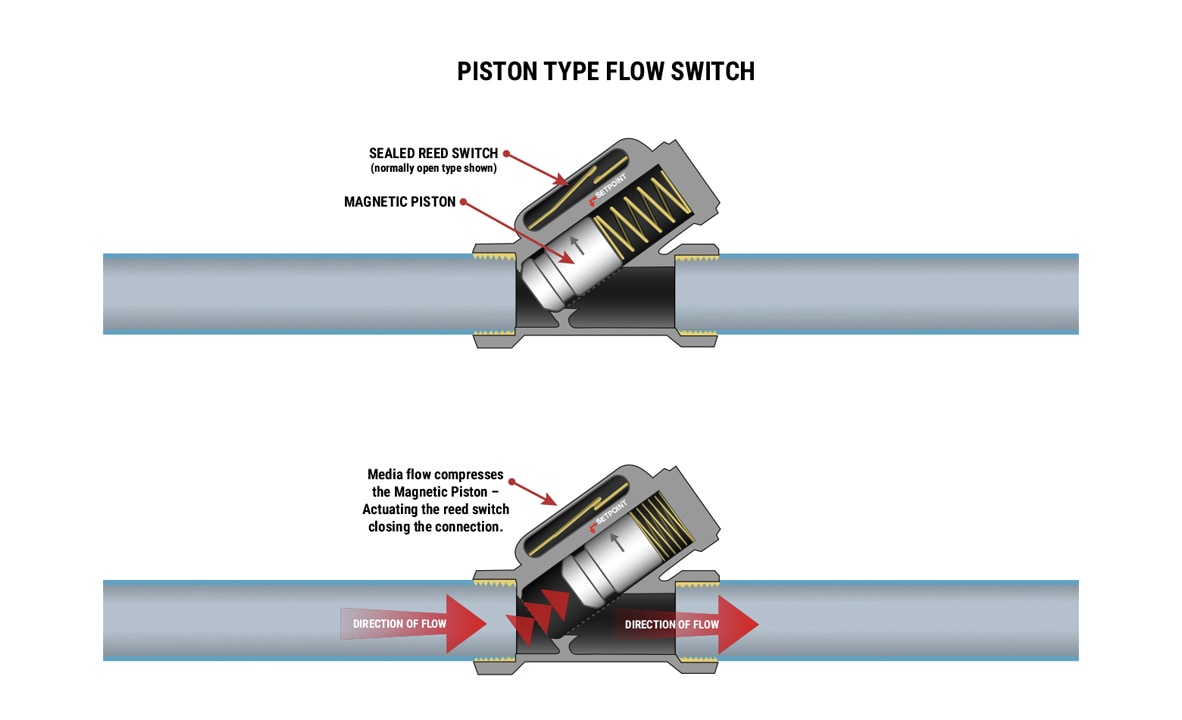 A piston (or shuttle) flow switch is designed so that a free-floating magnetic piston responds to the amount of flow within a pipe. When there is an increase or a decrease in the flow rate, movement of the piston actuates a hermetically sealed reed switch, triggering the specified action.

Solid-State Flow Switches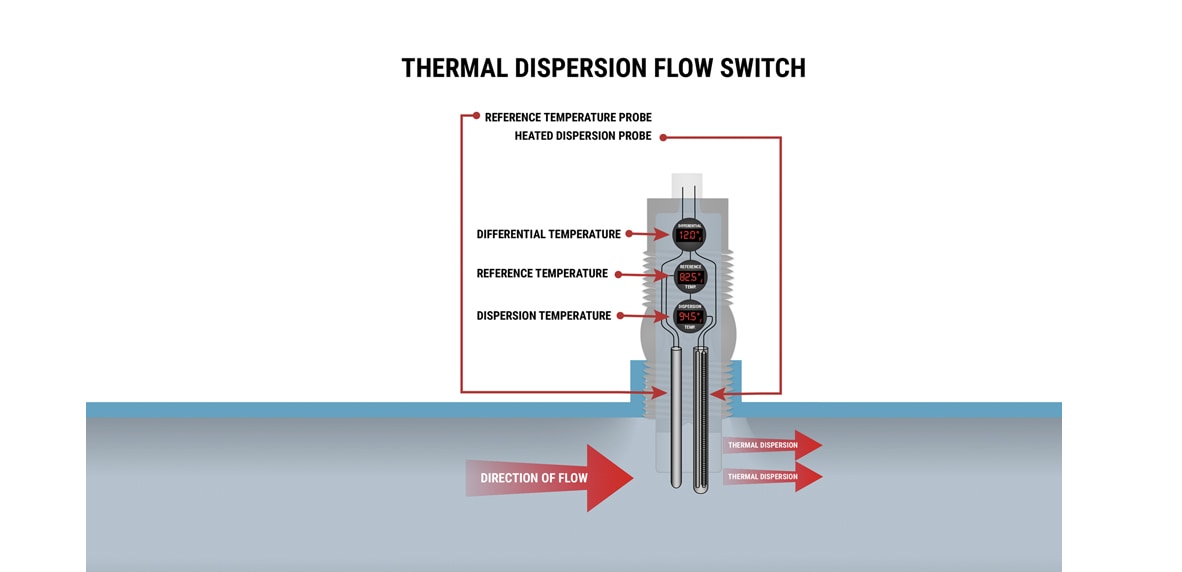 Solid-state flow switches operate on the principle of heat transfer. A thermal dispersion flow switch, which is a specific type of solid-state flow switch, consists of two temperature sensors. One sensor serves as the reference and measures the temperature of the media where the flow switch is immersed. The second temperature sensor is placed near a built-in heating element. As the flow rate of the media increases, it has a cooling effect on the heated sensor. The higher the flow rate, the more cooling. A reduction in the temperature differential between the two temperature sensors indicates that the flow rate exceeds the user adjustable set point. When the flow rate drops, there is less cooling – which causes an increase in the temperature differential. The temperature differential has an inverse relationship with the flow velocity. Fast flowing liquids, for example, will result in greater heat differences and vice versa.