Apart from cost and quality, the two major factors that you should keep in mind when buying a thermal camera are Detector Resolution and Thermal Sensitivity.
The Detector resolution is the number of pixels that the thermal imager can fill in a frame. More the pixels, more detailed the image is going to be!

The standard resolutions are 160 x 120, 320 x 240 and 640 x 480 pixels. A 160 x 120 resolution will have 19,200 pixels while a 640 x 480 resolution will have 307,200 pixels. Going for higher pixel density will give you clearer and more detailed pictures.

Thermal sensitivity is the smallest degree of temperature change that the thermal imaging camera can measure. If the thermal sensitivity of a thermal imager is 0.05°, it can separate two surfaces having 0.05° of a temperature difference by denoting the colder and hotter surface with different hues of color.

Also, make sure that the range of the thermal imager is sufficiently large so that you don't run into limits, -4°F to 2,192°F is a typical example of a good thermal range.
Choose the right infrared camera for your application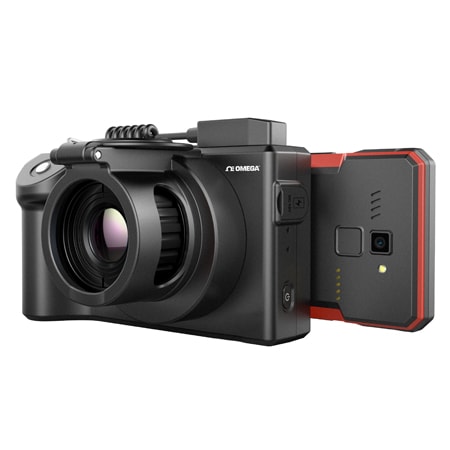 Super Resolution Thermal Camera
Emissivity and Reflection

Thermal imagers which allow the operator to set the emissivity and reflection is the one to pick if you are planning on using the thermal imager for any application. In essence, emissivity is the efficiency with which an object emits infrared radiation. To ensure correct temperature readings, thermal imaging cameras today have in-built emissivity settings for a wide range of materials.

The same is true for reflection as well. A camera that allows you to adjust the angle while pointing to an object will ensure that the thermal images are free from any misinterpretations caused by reflections.
Manual Span and Level Correction

Automatic thermal imagers set the span and level of the displayed thermal images based on the highest and lowest temperature found on the subject. However, this is ineffective if you want to see only a small spectrum of the temperature range. Manual settings allow you to set your own higher and lower temperature limits so that you can limit the scope of your examination.
Integrated Digital Camera

An integrated digital camera allows the operator to take normal pictures of the subject alongside the thermal pictures. This is extremely helpful when evaluating a complex scene. A visible light picture will help you compare and locate the areas that need attention easily.
Picture in Picture

Picture in Picture mode or P-i-P enables the camera to combine digital and thermal image in one frame. This is helpful when the operator needs better visibility of the subject without compromising thermal imagery.
Thermal Fusion

Thermal fusion combines thermal and digital image to show only the points of interest in a different hue. This method is great at isolating problems.

These are the core features that will help you find a capable thermal imager. With advances in technology, modern thermal imagers come with a variety of comfort features that include Bluetooth capability, normal camera mode, WiFi connectivity, and other ergonomic features.

However, make sure not to compromise on core features for the sake of comfort and aesthetics.
Fixed or portable camera?

Handheld or portable infrared cameras are one of the most popular types of infrared pyrometer. They are very popular in many industries and applications including HVAC, automotive, building inspection, energy audits, plant maintenance, electrical contractors, insulation experts and many more.

Fixed mount infrared thermometers are commonly used in industrial processes where the thermometer can be mounted in a stationary position.