Thermal Cameras are extremely useful for a broad range of applications. In this section, let's review the use of thermal imaging in home inspections.

The usage of thermal cameras for inspection purposes is called thermographic inspection. Thermographic inspections uncover a wide variety of information to help you derive crucial details about your home or business. Here are some examples of how you can use thermal imagers;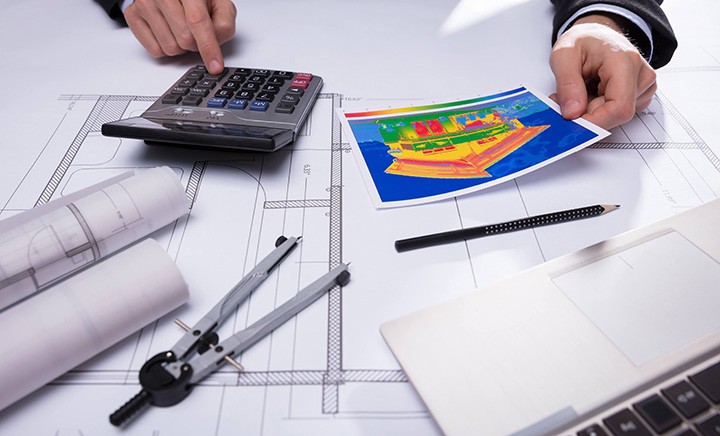 Detect Heat loss
Keeping a house warm in cold climates is an energy-intensive task. People often use fireplaces or thermostats to keep their homes at comfortable temperatures. In such cases, the insulation of the house is of critical importance.

A house with poor interior insulation means that the heat can escape rapidly, forcing the people to put more resources into keeping the interiors of their homes or businesses warm. If we calculate the increase in heating (or cooling) costs over a span of months, the numbers add up quickly.

Thermal imaging cameras can easily identify areas where heat is escaping the most. Once the leak path is known, it can be fixed in order to save on your energy bills.
Finding Damaged Heating/Cooling Systems
The ability of thermal imagers to identify the temperature of objects without being in contact with them is a big plus when trying to analyze HVAC system performance. The ability to measure individual temperatures, or to do surveys of larger areas, allows the user to identify and isolate problem areas where system performance has been compromised.

The same technology can be applied to catch sight of compressor leaks from air conditioners. Faulty equipment will often times exhibit significant differences in their actual performance from their rated performance. These differences can often be identified through changes in temperature that thermal imagers can identify.
Moisture or Leak Detection
Hidden problems can become expensive repairs when left undiscovered. For example, water leaking from pipes in a wall can cause serious damage and can even affect the structural integrity of a home or business. In most cases, these conditions remain undiscovered until serious damage has been done.

However, these conditions can be easily identified using thermal imagers. Periodic inspections and surveys looking for temperature changes can identify when problems occur.
Electrical Hazards
In the same way that moisture and water leaks can be identified through changes in the temperature of a wall or structure, Hot spots can also help identify issues with electrical hazards.

The walls in your home or business have wires running through them. If the circuit is overloaded, or if some type of damage to the wiring has occurred, then hot spots can develop that if left unidentified can lead to fires or other serious conditions. Many businesses will periodically check the temperature of their electrical panels and electrical equipment to insure that everything is in good working order. We often do not realize these hazards because they are hidden from us. Thermal imagers can expose these hotspots, as the surface of the wall will have a different surface temperature compared to the rest of the wall.

Once such points of failures are realized, you can take the right action at the right time, averting catastrophic scenarios like a fire.
Other Detection Capabilities
Thermal imagers can also detect conditions such as pests or erosion. The presence of animals or erosion can result in variations in the temperature of a wall when no other means of identification can. Detecting such occurrences are crucial when it comes to keeping your home safe and free from unwanted intrusions.