Thermal cameras are used in many applications and they aren't just restricted to household applications. Here are some of the most common applications of thermal cameras in a varied set of industries.
Electrical Wiring maintenance
Checking 3-phase equipment
First responders
Security
Animal Health
Mechanical Installations
Gas Detection
Many other applications
Electrical Wiring maintenance
Electrical wiring involves many discrete physical connections between cables and various connectors, and between connectors and mounting studs on equipment. The hallmark of a high-quality electrical connection is very low electrical resistance between the items joined by the connection. Continued electrical efficiency depends on this low contact resistance.

Passing a current through an electrical resistor of any sort dissipates some of the electrical power. The dissipated power manifests itself as heat. If the quality of the connection degrades, it becomes, in effect, an energy dissipating device as its electrical resistance increases. With increased resistance, the connector or joint exhibits a phenomenon called ohmic heating. Electricians and maintenance technicians use the thermographic camera to locate these hot spots in electrical panels and wiring. The heated electrical components appear as bright spots on a thermogram of the electrical panel.
Checking 3-phase equipment
Three-phase electrical equipment connects to the power supply through three wires. The current through each wire of the circuit should be equal in magnitude. However, it is possible to have an unbalance in the phases. In this case, the current in one of the phases differs significantly from the others. Consequently, there exists a temperature difference among the three connections. Thermographic cameras can illustrate this imbalance quite easily and dramatically. Consider, for a moment, the ease with which a thermographer can inspect overhead electrical connections or pole-mounted transformers from a remote, safe place on the ground.
First responders
Thermal imaging cameras are an indispensable tool for firefighters because of their ability to isolate points of interests from noise. In other words, thermal imagers help the firemen to see beyond the thick cloud of smoke and reveal what's behind it. This is a great help in finding people trapped inside a building or to identify an entry point for a rescue that has a relatively low temperature.
Security
Nearly all the military groups in the world now sport thermal imaging technology in the form of integrated cameras, either mounted on the individual's gear or on vehicles. In recent years, thermal imagers are also increasingly used in home security. Since the thermal image can uncover hotspot even in pitch-black nights, spotting intruders hiding behind bushes or thin veils is easy.
Animal Health
Red-blooded animals produce heat. And when they are sick, the temperature often fluctuates. Thermal imagers are used to check the body temperature of animals, and to see whether they have a uniform surface temperature. These checkups are mostly performed on pets.
Mechanical Installations (Preventive Maintenance)
Mechanical installations require a certain amount of precision, or else, the machinery will be subjected to unwanted vibrations or undulating stresses. A thermal imager is able to pick up the heat created by such forces like friction. It gives an insight into the soundness of the machinery.
Gas Detection
Infrared imaging is widely used in industries as a means to detect gas leaks. When an IR camera is pointed at a surface having a gas leak, it shows the temperature difference at the point of a leak caused by the pressure variance.
Many other applications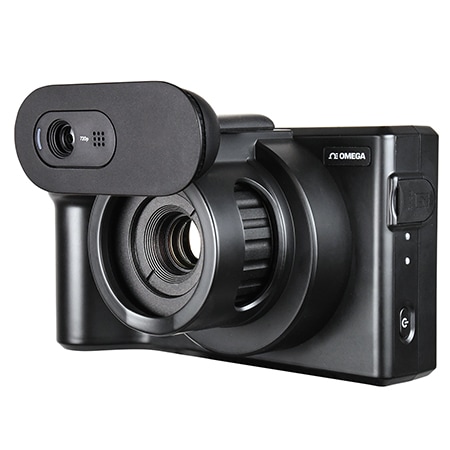 Heat loss to the surrounding environment is a function of temperature of the inside temperature. The heat loss increases nonlinearly with increased temperature because radiant losses can easily exceed convective and conductive losses at higher temperatures. For example, the refractory block installed inside of a kiln, boiler, or furnace is intended to minimize heat loss to the environment. Thermography can quickly locate any refractory defects. Another application for the technology is a blast furnace, with its massive amount of refractory.

Thermography finds further use in the inspection of concrete bridge decks and other paved surfaces. The defects in question are voids and delamination in and among the various layers of paving materials. The air or water contained within the interlaminar spaces of the pavement slab affects its overall thermal conductivity. The IR imager can detect these defects.

Painted surfaces become multilayer composites when a bridge or storage tank has been repainted numerous times during its service life. Here, too, the possibility of hidden rust, blistering, cracking, and other delamination defects between adjacent paint layers make objective visual inspection difficult. A technique called transient thermography returns objectivity to the evaluation of a potentially costly repainting project.