Thermocouples and RTDs (Resistive Temperature Devices) are both devices commonly used for temperature measurement. The main difference between them is their respective sensing elements: a thermocouple uses two dissimilar metals, while a RTD uses a resistive wire element.
Thermocouples
Thermocouples consist of two different types of metals joined together at one end, creating a junction. When the junction of the two metals is heated or cooled, a voltage is created that can be correlated back to the temperature.

These sensors are manufactured in a variety of styles, such as thermocouple probes, thermocouple probes with connectors, thin film thermocouple, transition joint thermocouple probes, infrared thermocouples, bare wire thermocouple, even just thermocouple wire.

Thermocouples are commonly used in many applications due to their wide range of models and technical specifications. However, it is extremely important to understand their basic structure, functionality, and ranges as to better determine the right thermocouple type and material of thermocouple for an application.
RTDs
RTDs are temperature sensors that contain a resistor that changes resistance value as its temperature changes. The most popular RTD is the Pt100, which i s an industrial probe that has been used for many years to measure temperature in laboratory and industrial processes, and have developed a reputation for accuracy, repeatability, and stability.

Most RTD elements consist of a length of fine coiled wire wrapped around a ceramic or glass core. The element is usually quite fragile, so it is often placed inside a sheathed probe to protect it. The RTD element is made from a pure material whose resistance at various temperatures has been documented. The material has a predictable change in resistance as the temperature changes; it is this predictable change that is used to determine temperature.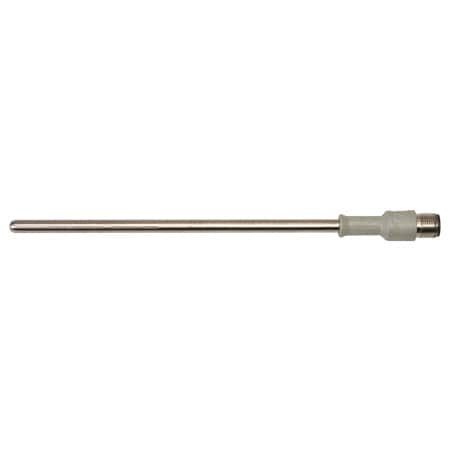 PR-31 RTD Probe
Thermocouples vs RTDs
While it is not practical to compare these sensors, generally, we can compare their performance in terms of specific criteria.
Temperature Range
Thermocouples are best for working at high temperatures. New manufacturing techniques have improved the measurement range of RTD probes, but more than 90% of RTDs are designed for temperatures below 400 oC. In contrast, some thermocouples can be used at up to 25000 oC. To accurately measure thermocouple input temperatures, you can use a thermocouple controller.
Cost
Thermocouples are generally cheaper than RTDs. An RTD will often cost two or three times more than a thermocouple with the same temperature range and style. Savings can be made on RTD installation, which is cheaper as inexpensive copper wire is used. However, this saving is not enough to compensate for the higher device price.
Sensitivity
While both sensor types respond quickly to temperature changes, thermocouples are faster. A grounded fast acting thermocouple will respond nearly three times faster than a Pr100 RTD. The fastest-possible temperature sensor is an exposed tip thermocouple. However, manufacturing improvements have also greatly improved response times of thin-film Pt100 probes.
Accuracy
RTDs are generally more accurate than thermocouples. RTDs have typically an accuracy of 0.1 oC, compared to 1 oC for most thermocouples. However, some thermocouple models can match RTD accuracy. The many factors that can affect sensor accuracy include linearity, repeatability, or stability.
Linearity
The temperature-resistance relation in an RTD sensor is almost lineal in the sensor range, while a thermocouple has an 'S'-type plot.
Stability
RTD probe readings stay stable and repeatable for a long time. Thermocouple readings tend to drift because of chemical changes in the sensor (such as oxidation). RTDs' linearity and lack of drift make them more stable in the long term.
Conclusion
Thermocouples are more economical than RTDs due to their cheaper manufacturing process. Depending on the number of probes that you need for your application, this can be a major factory. RTDs, on the other hand, provide a more reliable output. After carefully determining the range and the performance required, you can now select the most suitable sensor type for your application.