Because a thermocouple can take many shapes and forms, it is important to understand how to correctly select the right sensor.

The most commonly criteria used to make that choice are the temperature range, the chemical resistance, the abrasion and vibration resistance and the installation requirements. Installation requirements would also dictate your choice of a thermocouple probe.

There are different types of thermocouples and their applications may vary. An exposed thermocouple will work best when high response times are required, but an ungrounded thermocouple is better in corrosive environments. To help you determine the best thermocouple for your purposes, here are five considerations:
Determine the application where you will use the thermocouple sensor
Thermocouples can be used across industries and applications, so selecting the right one for your purposes starts with knowing exactly how and where you want to use it

If you need to measure gas or air temperature then an armored thermocouple or a vacuum thermocouple.
Determine the temperature ranges the probe will be exposed to
Once you know the thermocouple temperature range that you need, you can refer to our thermocouple range chart to help you determine which thermocouple is best for the temperature ranges you need.

A type K thermocouple offers a wide temperature range and is one of the most often used thermocouples. However, if your thermocouple probe will be exposed to extreme temperatures, a type N thermocouple is more stable in high temperatures and a type T thermocouple is best for extremely low temperatures


Determine how important a fast response time is
There are three types of thermocouple junctions: exposed, grounded or ungrounded. An exposed junction will provide the fastest response times. However, if the probe will be exposed to corrosive gas or high pressure, an exposed junction should not be used. An ungrounded thermocouple offers the slowest response time but can still be the best choice if it is also desirable to have the thermocouple electronically isolated from and shielded by the sheath.


Consider any chemical, abrasion or vibration resistance
An exposed thermocouple is limited in use to noncorrosive applications. Both a grounded or ungrounded thermocouple can be used in corrosive or high-pressure environments, but an ungrounded probe is best if there is a need to have the thermocouple electronically isolated from and shielded by the sheath. If faster response times takes priority in a corrosive environment, then a grounded thermocouple is best


Consider any installation requirements
The thermocouple may need to be compatible with existing equipment. For example, existing holes may determine the probe diameter
How to select a thermocouple type
Because a thermocouple measures in wide temperature ranges and can be relatively rugged, thermocouples are very often used in industry. The following points need to be answered before choosing a thermocouple:


Determine the application where the thermocouple will be used
Temperature range
Chemical resistance of the thermocouple or sheath material
Abrasion and vibration resistance
Installation requirements (may need to be compatible with existing equipment; existing holes may determine probe diameter)
How do I know which junction type to choose?
Sheathed thermocouple probes are available with one of three junction types: grounded, ungrounded or exposed. Check also our video about thermocouple junctions:


Grounded Junction Thermocouples
At the tip of a grounded junction probe, the thermocouple wires are physically attached to the inside of the probe wall. This results in good heat transfer from the outside, through the probe wall to the thermocouple junction.

This means that grounded thermocouples will have faster response times than ungrounded thermocouples.

The grounded junction is recommended for the measurement of static or flowing corrosive gas and liquid temperatures and for high pressure applications. The junction of a grounded thermocouple is welded to the protective sheath giving faster response than the ungrounded junction type.

However, grounded thermocouples are highly susceptible to noise induced by ground loops, resulting in less accurate readings.
Ungrounded Junction Thermocouples
In an ungrounded probe, the thermocouple junction is detached from the probe wall. Response time is slower than the grounded style.

On the other hand, the junction is electrically isolated from the sheath, which prevents electrical noise from interfering with the signal. This yields much greater temperature measurement accuracy, especially with very low-level signals.

An ungrounded junction is recommended for measurements in corrosive environments where it is desirable to have the thermocouple electronically isolated from and shielded by the sheath. The welded wire thermocouple is physically insulated from the thermocouple sheath by MgO powder (soft).
Exposed Junction Thermocouples
The thermocouple in the exposed junction style protrudes out of the tip of the sheath and is exposed to the surrounding environment. This type offers the best response time, but is limited in use to noncorrosive and nonpressurized applications.

An exposed junction is recommended for the measurement of static or flowing non-corrosive gas temperatures where fast response time is required. The junction extends beyond the protective metallic sheath to give accurate fast response. The sheath insulation is sealed where the junction extends to prevent penetration of moisture or gas which could cause errors.





See the illustrations at the right for a full discussion of junction types.



In this PDF you can find more information about thermocople insulations.
Which Thermocouple Do I Need?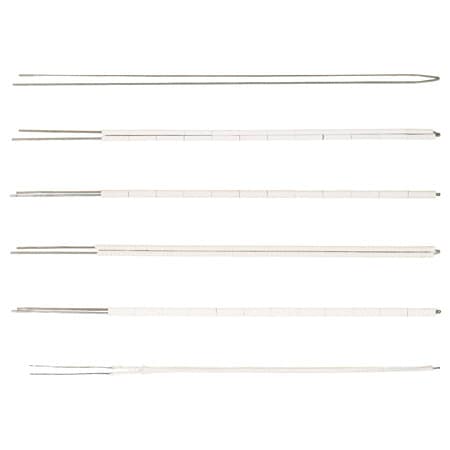 Various Temperature Ranges for various Temperature Measurements
A beaded wire thermocouple is the simplest form of thermocouple. It consists of two pieces of thermocouple wire joined together with a welded bead. Because the bead of the thermocouple is exposed, there are several application limitations. The beaded wire thermocouple should not be used with liquids that could corrode or oxidize the thermocouple alloy. Metal surfaces can also be problematic. Often metal surfaces, especially pipes are used to ground electrical systems The indirect connection to an electrical system could impact the thermocouple measurement. In general, beaded wire thermocouples are a good choice for the measurement of gas temperature. Since they can be made very small, they also provide very fast response time.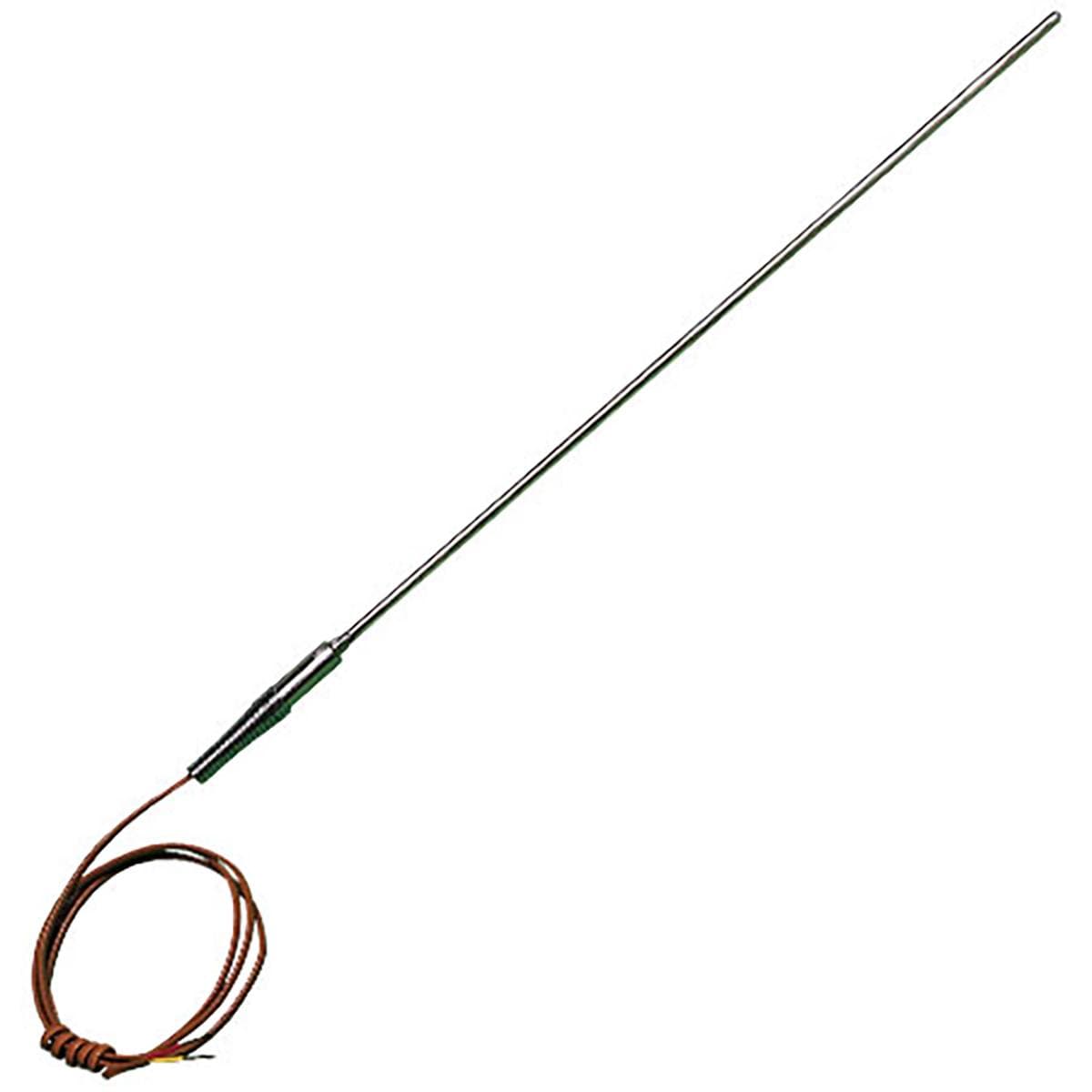 Thermocouple Probe
A thermocouple probe consists of thermocouple wire housed inside a metallic tube. The wall of the tube is referred to as the sheath of the probe. Common sheath materials include stainless steel and Inconel®. Inconel supports higher temperature ranges than stainless steel, however, stainless steel is often preferred because of its broad chemical compatibility. For very high temperatures, other exotic sheath materials are also available. View our line of high temperature exotic thermocouple probes.
The tip of the thermocouple probe is available in three different styles. Grounded, ungrounded and exposed. With a grounded tip the thermocouple is in contact with the sheath wall. A grounded junction provides a fast response time but it is most susceptible to electrical ground loops. In ungrounded junctions, the thermocouple is separated from the sheath wall by a layer of insulation. The tip of the thermocouple protrudes outside the sheath wall with an exposed junction. Exposed junction thermocouples are best suited for air measurement.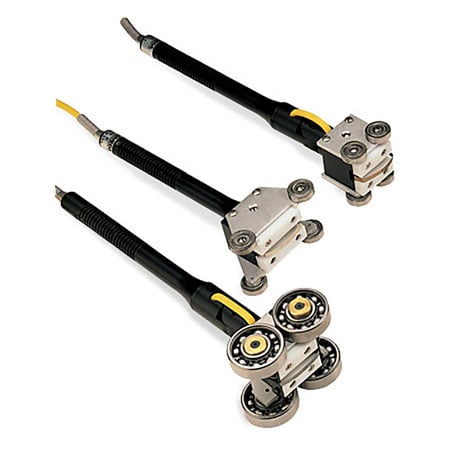 Surface Probe
Measuring the temperature of a solid surface is difficult for most types of temperature sensors. In order to assure an accurate measurement, the entire measurement area of the sensor must be in contact with the surface. This is difficult when working with a rigid sensor and a rigid surface. Since thermocouples are made of pliable metals, the junction can be formed flat and thin to provide maximum contact with a rigid solid surface. These thermocouples are an excellent choice for surface measurement. The thermocouple can even be built in a mechanism which rotates, making it suitable for measuring the temperature of a moving surface. Thermocouple type K is ChrOMEGA™/AlOMEGA™.