When two wires composed of dissimilar metals are joined at both ends and one of the ends is heated, there is a continuous current which flows in the thermoelectric circuit. If this circuit is broken at the center, the net open circuit voltage (the Seebeck voltage) is a function of the junction temperature and the composition of the two metals. Which means that when the junction of the two metals is heated, or cooled, a voltage is produced that can be correlated back to the temperature.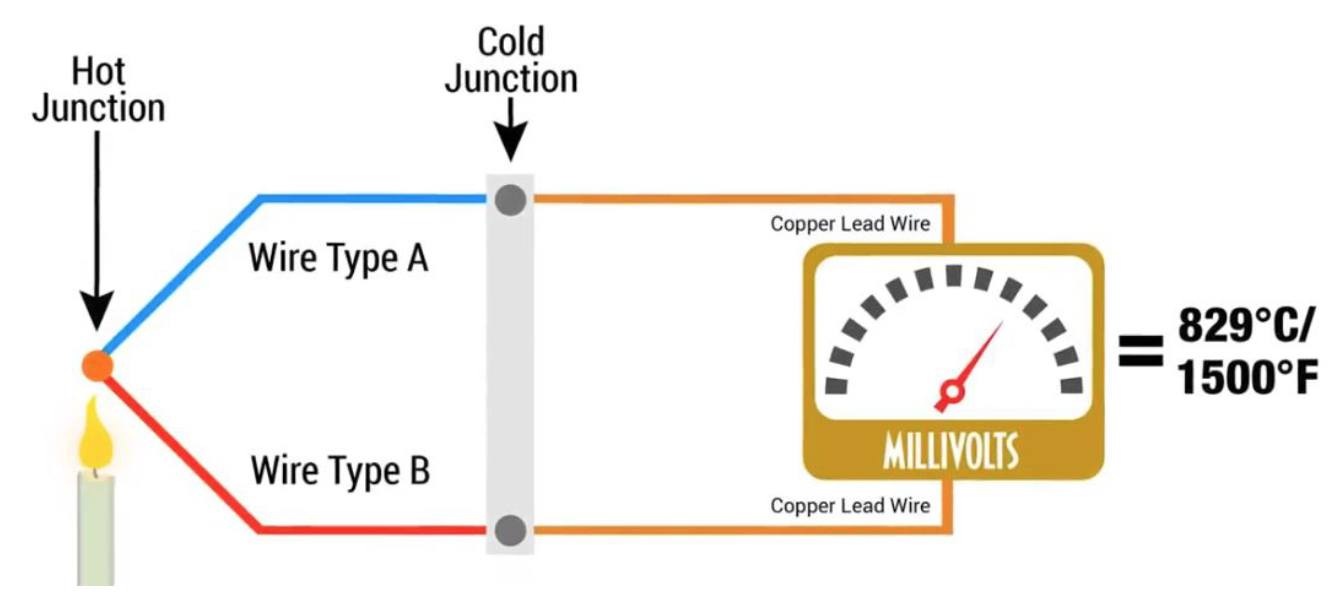 Working with response times
A time constant has been defined as the time required by a sensor to reach 63.2% of a step change in temperature under a specified set of conditions. Five time constants are required for the sensor to approach 100% of the step change value. An exposed junction thermocouple offers the fastest response. Also, the smaller the probe sheath diameter, the faster the response, but the maximum temperature may be lower. Be aware, however, that sometimes the probe sheath cannot withstand the full temperature range of the thermocouple type. Learn more about thermocouple response times.
What is the difference: thermocouples, RTDs, thermistors and infrared devices?
To select between the sensors above, you should consider the characteristics and costs of the various sensors as well as the available instrumentation. In addition, Thermocouples generally can measure temperatures over wide temperature ranges, inexpensively, and are very rugged, but they are not as accurate or stable as RTD's and thermistors. RTD's are stable and have a fairly wide temperature range, but are not as rugged and inexpensive as thermocouples. Since they require the use of electric current to make measurements, RTD's are subject to inaccuracies from self-heating. Thermistors tend to be more accurate than RTD's or thermocouples, but they have a much more limited temperature range. They are also subject to selfheating. Infrared Sensors can be used to measure temperatures higher than any of the other devices and do so without direct contact with the surfaces being measured. However, they are generally not as accurate and are sensitive to surface radiation efficiency (or more precisely, surface emissivity). Using fiber optic cables, they can measure surfaces that are not within a direct line of sight.